South African yard to work with Olivier Racoupeau and Nauta Design
Superyacht specialist Southern Wind has confirmed a 90ft catamaran build project together with naval architect Olivier Racoupeau and Nauta Design. The project was unveiled at the recent Loro Piana Superyacht Regatta at the conclusion of the SWS Trophy and Rendezvous.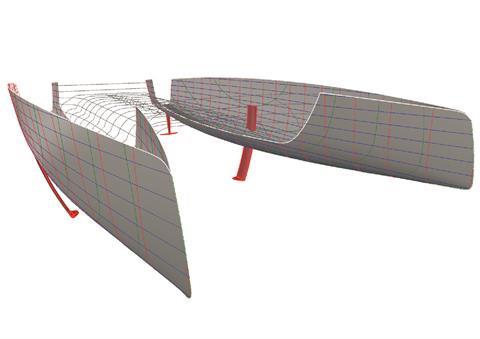 SWS general manager Marco Alberti said the transition to a 90ft catamaran stemmed from the company's longtime focus on the 90-100ft market niche. "We gained a lot of experience and learnt a lot in the years and therefore decided to offer our experience to the catamaran world and we decided to start in the range where we could transfer to most of it: the 90ft," Alberti said in a statement. "This catamaran is completing the Yacht range we offer to our clients,"Alberti said, adding that project partners were chosen for their proven catamaran expertise. "We wanted to match our experience with a naval architect who has load of experience in fast cruising catamarans: Olivier Racoupeau," Alberti said. "And, last but least, we looked at Nauta Design, not only for the excellent long-lasting relationship, but for the experience they have in the catamaran world."
Racoupeau said the project had been in discussion for years. "Catamaran market generally lacks top tier quality offer and we are pleased to be offered to work with such qualified partners,"Racoupeau said. "We are working on a fast cruising ocean sailing catamaran which combines our experience with the quality and the reliability SWS can deliver. We chose to build the cat in advanced carbon epoxy as the best technique to achieve a stiff construction and a light cat, important to achieve performance. We trust the teamwork with SWS and Nauta will lead to a catamaran which will set a new benchmark for cruising multihull."
Milan-based Nauta Design will take charge of structure, deck and interior design for the SWCAT90 project. Designer Mario Pedol said: "When it comes to designing the exterior of a catamaran, the biggest challenge is to get a sleek appealing exterior profile, which could match the elegance and lightness of the interiors. SWCAT 90 will offer a unique balance between the comfort achievable with a fly bridge and the lines typical of a lower coachroof."
News of the catamaran collaboration follows recent progress on another innovative project, a custom 100ft racer cruiser. "Though we specialise in the production of high performance semicustom cruisers from 27 to 35 mt, we occasionally consider the construction of custom yachts, upon a careful evaluation of a specific project proposed by the owner and his naval architect, and the Custom RP- NAUTA 100 showed to be perfectly in line with our positioning," said company spokesperson Umberta Bassino. "As a matter of fact, the RP-NAUTA 100 has been commissioned by a passionate owner, who was looking for a racer cruiser capable of excelling in the regatta fields with no compromise on the comfort you expect from a 100ft superyacht. Reichel Pugh and Nauta Design are long time partners of ours and we are happy to collaborate again with them on such an intriguing boat," Bassino said.