Seven superyachts of 50m to 105m featured
Two new series of superyacht concepts haven been launched this week offering seven models which range in size from 50m (164ft) to 105m (345ft).
The five model 'Beyond Superyacht' series has been debuted by the global yacht services provider, Northrop & Johnson (N&J) while two yacht designs are included in the Galilieo services introduced through an exclusive collaboration of Admiral Yachts with SuperYachtsMonaco.
The 'Beyond Superyacht' set of concepts offers five yachts in the sizes of 50m; 62m (203ft), 68m (223ft), 72m (236ft) and 82m (269ft). All are being promoted for sale through N&J.
N&J report that the vision for this striking superyacht series was conceived by design consultant Carl Esch and his design team, with Christopher Seymour creating exterior styling. The interiors were designed Guido de Groot; Theodoros Fotiadis Design and Sorin Vega Design.
One highlight, according to an N&J statement, of this new-build series is the unique aft deck/transom concept. Each yacht in the series has a split-level aft infinity pool nearly at sea level to offer the ultimate on-water experience. The infinity pool connects the main deck aft, beach club and swim platform. Other notable features in the 'Beyond Superyacht' series include helipads and multiple foldout balconies.
No builders have yet been assigned to the series but negotiations are currently underway. Michael Graff, the N&J broker overseeing the marketing of the series told IBI: "At this early stage, we talk to various ship yards and we received some quotations. Our focus at this moment is with Fincantieri Yachts. First talks started last month and we expect to have basic prices by January."
Under the exclusive collaboration between Admiral Yachts and SuperYachtsMonaco, the latter will act as central agents for the sale of the two Galileo models which come in sizes of 80m(262.5ft) and 105m.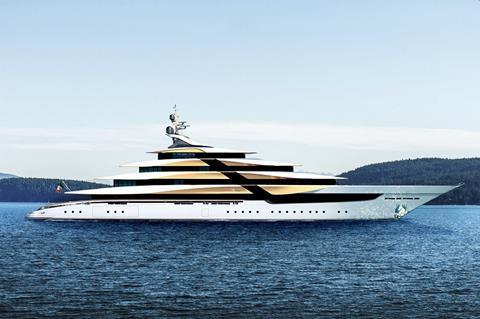 Alex Banning of SuperYachtsMonaco, has driven the Galileo models which are intended to inspire clients to make progressive use of modern superyachts. He worked closely with Admiral Yachts in-house design team to develop this series which brings strong Italian styling and naval architecture with state-of-the-art technology to create two sophisticated superyacht concepts.
The Galileo 80 will have accommodation for 14 guests onboard while the Galileo 105 will be Passenger Yacht Code classed and capable of welcoming up to 34 passengers overnight. Both yachts will also have extensive crew quarters with additional accommodation for members of staff.
The yachts will provide the owner fully-customized, spacious and ultra-comfortable interiors perfectly designed for luxurious living. 2.5m-high ceilings and full-length windows throughout will maximise natural light and maintain a sense of openness while a variety of lounge and dining areas will provide ample space to entertain and socialise. Additionally, both yachts will feature an onboard spa and fitness centre, and possibly a semi-submerged internal bar or underwater view room.
Equipped with powerful diesel engines plus zero-speed stabilisers, the Galileo series will have a range of 6,000 nautical miles. The Galileo 80 will have a top speed of 19 knots while the Galileo 105 will reach 15.5 knots.