The 110ft Two Oceans 110 Day Charter Catamaran will be based in the Seychelles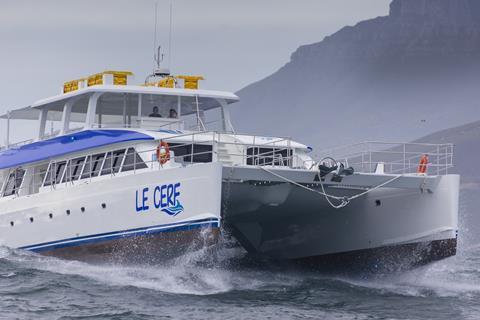 Two Oceans Marine Manufacturing has launched South Africa's biggest composite and leisure catamaran, the company announced on Tuesday.
The Two Oceans 110 Day Charter Catamaran was designed for commercial day charters and can carry 275 people. She is to be based in Mahé in the Seychelles. The vessel was designed by well-known South African naval architect Anton du Toit of Du Toit Yacht Design, who has collaborated with Cape Town-based Two Oceans on numerous other custom catamarans including a recently-launched Two Oceans 700 Day Charter Sailing Catamaran.
The Two Oceans 110 has a flybridge, and upper and lower deck, and a six metre tender on her transom. "The upper deck has plenty of casual seating as well as a bar and dining seating for 60 guests and storage space for snorkeling gear," the company said in a statement. "The lower deck has dining seating for 90 guests as well as casual seating. The lower deck also has a bar and a dance floor, storage lockers, fridges, freezers and chilly bins. All stairways and walkways have blue effects LED lighting, and she has a Fusion sound system."
"The galley is housed in the starboard hull and can cater for 250 guests onboard. The starboard hull also has many storage lockers and a crew rest area, and bunks for the crew if needed on a delivery. The port hull houses the guest WC facilities – three ladies' heads and wash up basins fore of the companionway and two gents' heads and two urinals and wash up basins aft," the statement said.
Two Oceans Marine is one of South Africa's premier boatbuilders, currently under the helm of managing director Mark Delany. The company was recently also contracted to build a new fleet of Search and Rescue vessels for South Africa's National Sea Rescue Institute. Earlier this month Delany was one of five builders recognised as an industry 'trailblazer' by industry body the South African Boatbuilders Export Council (SABBEX).