French builder presents two new sailing boats at Rio Boat Show
Jeanneau is looking to strengthen its presence in Brazil, especially the market for bigger sailboats, according to the builder's regional sales director.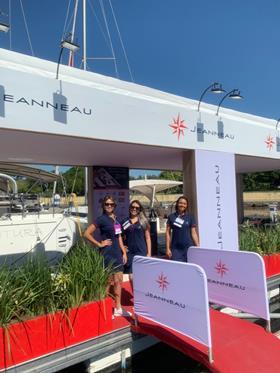 The French builder has long had a strong presence in the country through its local dealer Green Yachts, and this year is doubling its efforts at the Rio Show running this week, by presenting two boats; the brand new Sun Odyssey 440 featuring Walkaround decks and the flagship Jeanneau 64. A VIP cocktail party was hosted at the show to gather all the Jeanneau owners and customers.
Thibaud Maudet, Jeanneau regional sales director, commented at the Rio show this week: "Jeanneau Sail has been well established in Brazil for many years and it is our desire today to confirm this leadership position, especially in the segment of larger sailing boats. In cooperation with our dealer, we are this year the only sailing brand able to display two boats at the show: the new brand new SO440 walk-around and an already successful yacht the Jeanneau Yacht 64".
With its sleek deck lines and modern hull designed by Philippe Briand, the new SO 440 has a number of innovative features: the large cockpit with the extended coamings convertible into lounging area is ideal for tropical weather, while inclined side decks allow for easy circulation. "As regards the JY64, it is important to maintain our leading position in the larger yachts segment where we see the highest demand here in Brazil, especially during this period of difficult economic situation", continues Thibaud Maudet. "As the largest show in the région, the Rio boatshow is a great regional hub for the rest of South America where a lot of clients can come and see our new boats".
The Rio Boat Show runs from April 27-May 5.