French Bavaria subsidiary has Nautitech brand revived as it gears up for growth 
The French boat manufacturer Bavaria Catamarans will return to using its Nautitech name, following a decision by the new owners of Bavaria Yachtbau to revive the well-known brand identity.
Representatives of the company's new investor, CMP, met this week with local representatives at the French yard in Rochefort where the catamarans are built to discuss the future of the subsidiary, which CMP acquired together with Bavaria Yachtbau in September.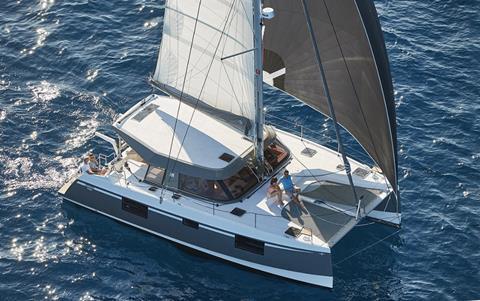 Bavaria's new managing director Ralph Kudla siad: "Bavaria stands for yachts, Nautitech for catamarans". As Chief Restructuring Officer, Kudla is also responsible for Bavaria's French subsidiary. He added in a press statement published on Wednesday, "We believe it is important that both companies can emphasise their respective identities even more clearly in the future."
The "Bavaria Catamarans" brand introduced after the acquisition of the multihull business by the German shipyard will no longer be used. The new management does not believe that the Bavaria brand has the same charisma as the traditional Nautitech brand name.
Multihull market growing
In 2018, the French subsidiary produced 75 multihull yachts. Around 30 orders have been added since CMP's takeover in September. In the difficult period following the company's surprise insolvency, the builder continued to produce boats without an investor, subsequently obtaining new boats reaching the triple-digit level, which are now to be processed.
Overall, French shipyards delivered a total of 718 catamarans, according to the French Nautical Industry Association. This corresponds to a total value of €333 million, an increase of 35% over the previous year. Around 90% of all multihulls worldwide are built in the west of France between Lorient and Bordeaux.
Rochefort region wants to help
Nautitech could produce up to 100 catamarans per year on the current 7,000 sqm site. In order to meet the upswing of demand in the segment, the builder said it would be necessary to expand its industrial resources and to almost double the operating premises.
With the support of local and regional officials, Bavaria is examing the possibility of expanding the current site. The shipyard is located at the commercial port of Rochefort with direct access to the sea. Hervé Blanché, mayor of Rochefort and Chairman of the Rochefort Océan subregion, explained, "Bavaria proves us right in founding the new nautical-maritime cluster of New Aquitaine together with our partners. This infrastructure project will generate 'economic dynamics in our region', said the mayor.