MDL and Oyster sign agreement for key Southampton site
The transformation of the leading UK sailing yacht brand, Oyster Yachts, under Richard Hadida's ownership has continued with the signing of a new agreement with Saxon Wharf landlord MDL for the next 10 years.
The Saxon Wharf site at Southampton is key to the future of the Oyster Yacht brand following its entry into administration in 2018 and purchase by Hadid, a gaming entrepreneur and Oyster yacht owner. Over the past year, and with a new management team, Oyster has been reshaping the business to take it forward and keep it as a globally-respected sail cruising yacht builder.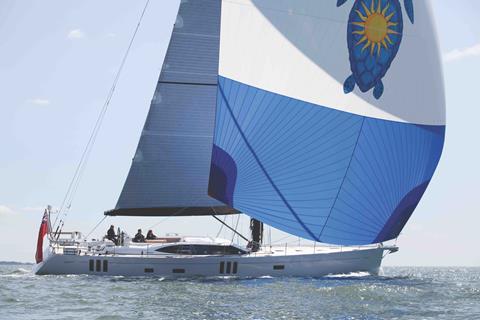 "Saxon Wharf provides the perfect South Coast base for us and complements our other sites at Wroxham, Ipswich, Palma and Newport Rhode Island," said Clive Harrop, Chief Operating Officer at Oyster. "Not only do we have a highly-skilled and dedicated team onsite to assemble and refit our beautiful boats, we're minutes from Solent cruising where we initially test all our projects, whether they're bespoke, or a new build of a traditional favourite."
Oyster is a world leader in designing and building the top quality deck saloon blue-water cruising yachts and its foundations are built on over 20m blue-water sailing miles, and 90 circumnavigations.
"We're delighted Oyster Yachts has chosen to build its future at Saxon Wharf," observed Graham Nash, MDL's Estates Manager. "Saxon Wharf is known as the location on the River Itchen for superyachts and other large craft needing lift-outs, repair work, or full-scale refits and so we're really pleased that Oyster is staying with us. We consider this a testament to the service and professionalism of our staff and the quality of the marina."
MDL declined to make any comment on the new lease and what inducements might have been included for the new agreement to be concluded. All a spokesman commented was that: "We are happy to have completed the negotiation." MDL did not say how long it had taken.
Saxon Wharf, a marine service centre, features a 200-ton boat hoist and can accommodate boats up to 80m (262ft). Aside from Oyster, tenants onsite include commercial ventures such as on-shore storage, training and boat repair. MDL's Dry Stack facility offers secure dry berthing and on-demand launching and lifting for boats up to 13m (42ft).
Since the purchase of Oyster by Hadida the group has been steadily reviewing and developing the brand and investment to enhance the capacity and production of the Saxon Wharf site is planned for the future.
A few weeks ago the first sailing yacht hull made in-house at Oyster Yachts' moulding facility in Norfolk was transported to Saxon Wharf. This was the hull of the 22.74m (74.6ft) in-build Oyster 745 which is now being completed in the Southampton yard and is due to be launched in March next year and delivered in June 2020. Oyster is understood to have an orderbook that extends for at least a year ahead.