Poland is now the world's second-largest producer of boats up to 9m in length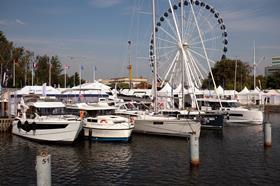 The number of boats manufactured in Poland reached 22,000 units valued at over €350m in 2018, according to figures released by the Polish Chamber of Marine Industry and Water Sports (Polboat), the marine industry association for Poland, during the Düsseldorf boat show on Monday.
Polboat secretary general Michael Bak said: "Poland has a rich tradition of boatbuilding which started after the end of the Second World War with Poland designated as the supplier of boats for the USSR. This developed the skills base and infrastructure for a thriving private industry after Poland's independence and the growth of a market economy.
"The industry has been growing ever since and in recent years has seen an increasing emphasis on larger models," he said. "This makes last year's production figure of 22,000 units even more impressive, as the average length of boats has increased. Now Poland is the world's second-largest producer of boats up to 9m in length, second only to the USA.
"Exports comprise 95% of the production, with key markets in Europe – especially the Scandinavian countries, France, Germany and the Netherlands. However, our builders are also venturing further afield, doing business last year in the United Arab Emirates, Russia and Australia. Production is mainly centred in the north of Poland. Almost 70% of the production is by seven builders – Balt Yacht, Delphia Yachts, Galeon, Ostroda Yacht, Parker Poland, Sunreef Yachts and Slepsk."
According to economic data supplied by Polboat, the industry has over 1,000 companies with over 40,000 employees and is seen as a valuable export earner for the nation. As such it receives support from the Polish government's Investment and Trade agency with the aim of promoting Polish boats and marine equipment.
Poland still has competitive manufacturing costs and with improving quality is proving an attractive location for some major brands such as Beneteau, Brunswick, Nimbus, Windy and Axopar, which are sub-contracting some production to Poland.
"The home market has been mainly driven by sailing boats especially in the attractive Masurian Lakes area in the north of the country where there are over 600 marinas and berthing sites on the inland waterway canals, rivers and lakes.," said Bak. "This area is also home to many of the boatbuilders. Leisure boating is becoming more popular within Poland especially with the strong growth of the economy which is creating increasing disposable income."