Hulls #4 and #5 under construction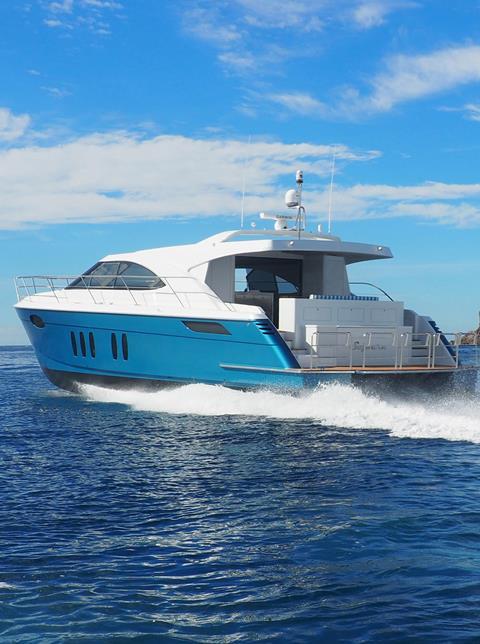 Pachoud Motor Yachts' innovative Roger Hill-designed asymmetric foiling powercat is proving a hit, with the New Zealand builder just announcing that it has just sold two more. Hulls #4 and #5 are now in production.
The 18m powercats will be built in tandem over the next 18 months and, like all previous models, will be built in composite with each optimised to suit the individual owners' preference for internal layout, décor, technical specification, and survey. Launch date is predicted to be mid-2020. Each boat will be individually analysed for optimum foil shape and size related to the required performance and final displacement.
Power for both models will probably be 2 x MTU Series 60, through shafts, which will give the 27000 kg boats a maximum speed of 39kt.
Roger Hill has also released details of a 20m version of the same design which is being built in Auckland by Scott Lane Boatbuilders. A full set of moulds is underway for this fast powercat, with resin infused E-class being used for the external shell and carbonfibre for the inner structure.
Based on the same asymmetric foiling hull design, the 20m version will also carry a helipad on the sedan roof and has an anticipated top speed of around 45kt. Power has not yet been finalised, but favoured are a pair of MTU V8 1250hp engines. It is expected to launch at the end of 2019.
Tauranga-based Pachoud Motor Yachts began its foray into fast Roger Hill-designed asymmetric foiling powercats back in 2011 when it launched the 17m Voodoo, the first in a new series. The boat proved an immediate success and served well as a test bed for foil development, appendage optimisation, and hull form. An early trip across the Tasman from Auckland to the Sanctuary Cove Boat Show in Australia attracted a lot of interest and further orders followed for both the designer and builder.
Sojourn, the second boat in the asymmetric foiling series, was the first 18m version and, like Voodoo, was capable of high-speed ocean passages (27 hours from Opua to Noumea) with moderate sized engines and offering a full luxury live-aboard lifestyle. Running a pair of MTU Series 60 engines, Sojourn topped out at 39kt, with a fuel consumption from 20kt-30kt of around 7.0lt/Nm.
Designer Roger Hill says that he doubts there is another large motoryacht of this size than can boast similar figures and that clients can look forward to fast passages, reducing travel time and increasing play time at the destination. He added that his 18m asymmetric foiling powercat is all about economy and range, allowing for transocean passage-making at high speed.
In July 2018, Pachoud Motor Yachts delivered their second 18m, Souvenir, to a Hamilton Island, Australia-based client (27 hours from Opua to Noumea at an average speed of 31.8kt) and the third 18m, F5, to be used for charter and private use was launched mid-December 2018.