Expansion to support ongoing growth of Sirena, Azuree and Euphoria brands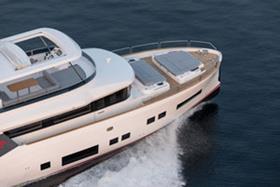 To cope with demand and give it the ability to build larger yachts, Sirena Marine is looking for a site for a new shipyard that it hopes will be operational in the next year. Few details are known at this stage, but IBI understands that more information is forthcoming in a few months' time.
The builder of Sirena motoryachts and the Azuree and Euphoria sailing yacht brands continues to expand. Sirena already has the successful Sirena 58 and Sirena 64, and the new 27m (88ft) Sirena 85 will launch later this year.
Sirena is displaying one model from each range at Düsseldorf – the Sirena Yachts 64 with a new interior from Cor D Rover, the Euphoria 54 and the Azuree 41. To date, 12 Sirena 64s have been sold and are either completed or in build.
Demet Yesilaltay, Sirena Marine's marketing and corporate communications manager, told IBI at Düsseldorf: "Sirena Marine is mainly focusing on the new Sirena 85 and the new models for Euphoria. We will be opening the new shipyard in Istanbul later this year and this will build the larger Sirena models, the 64 and 85. All the other models are built at our other yard, which is about two hours by car from the new yard."
In an expansion of its dealer network, Sirena Yachts has also appointed Sweden's Marstrand Yachts as its official distributor for the Nordic European countries – Sweden, Norway, Denmark and Finland.
Marstrand, which has more than 10 years' experience selling long-distance cruising yachts in the region, has a successful track record of working with major yachting brands. The company enjoys strong regional connections in the marine industry, a large database of prospects, and a full understanding of the commercial and practical considerations of boating in the region. It has branches in Marstrand and Saltsjöbaden, Stockholm.
"We are honoured to be appointed as Sirena Yachts dealers for the Nordic European countries and be able to offer our discerning clientele a modern, quality brand that has been missing in the region," said Peter Johansson, CEO of Marstrand Yachts.
Ali Onger, commercial group manager of Sirena Marine, commented: "At Sirena Marine, we continue our dealer network expansion by appointing Marstrand Yachts. This collaboration surely will create a great synergy to reach a fruitful and successful partnership."