"Dead Boats Society" closing in on removing its 100th abandoned vessel from Canada's Pacific coast
Backed by government support for recovering abandoned and derelict boats, a Canadian volunteer group which bills itself as the "Dead Boats Society" is closing in on removing its 100thabandoned vessel from Canada's Pacific coast.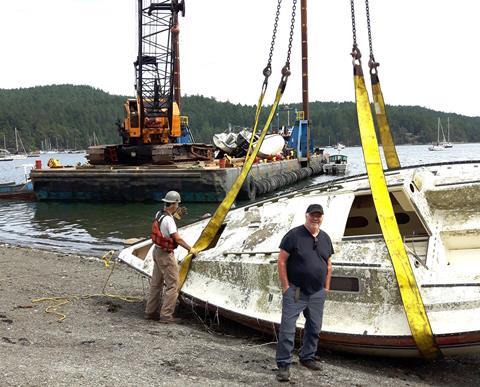 Combining federal grant money and resources from a long list of partners, the group spoke with local media last week highlighting eight abandoned sailboats and a dock full of marine debris recovered over the previous days from multiple locations on Vancouver Island. Dead Boat Society founder John Roe says the group is approaching its 100thvessel recovery, a milestone it hopes to reach in the next few weeks.
Roe notes that his group tried to start an abandoned vessel recovery program in the 1990s, but a lack of government support allowed the number of abandoned vessels along the coast to skyrocket. Following years of lobbying efforts by NMMA Canada and regional marine trade associations, the Canadian government launched its $1.5bn Oceans Protection Plan in March of 2018, which provides direct funding for the removal of abandoned vessels. Roe is now seeking funding support to remove another 39 derelict boats that the Dead Boats Society has identified.
While the group is pleased to be approaching its 100th vessel recovery, Roe notes that the number of abandoned boats along Canada's Pacific coast is estimated to exceed 2,300 based on existing inventories.
Abandoned boats can become navigational hazards or impact local environments. Canada's Wrecked, Abandoned or Hazardous Vessels Act, which became law this summer, provides fines of up to C$50,000 for individuals and $250,000 for businesses which are found to be guilty of abandoning boats.