The 4.2m GRP composite Sea Ranger combines the key aspects of a RIB with a PWC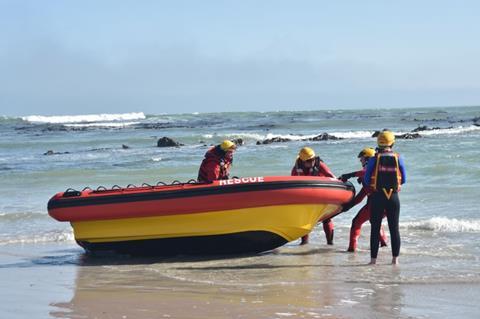 Cape Town builder Admiral Powercats plans to launch a recreational version of a new generation surf rescue vessel that is being integrated into South Africa's National Sea Rescue Institute (NSRI) fleet.
The 4.2m GRP composite Sea Ranger, which combines the key aspects of a Rigid Inflatable Boat and a Personal Watercraft, is being rolled out along the South African coast at numerous NSRI base stations.
This year alone the NSRI will take delivery of between 10-14 boats, with a similar number expected to be added to the fleet for the next three years.
The boat already has recreational appeal for fishermen due to its stability compared with a normal jet ski. However, Admiral Powercats is now exploring plans to turn it into a tender for bigger yachts, according to company MD Alan Geeling.
"We will have a recreational version that is suitable for a tender – it is in the works," Geeling told IBI. "We are tooling up for making a transom and swimming platform." The move followed input from the recreational market, Geeling added.
The company was also exploring market opportunities in Australia and New Zealand. "We have also sent information to organisations in Europe and the US," Geeling said.
While the vessel was initially designed to take on South Africa's high-energy surf zone, it has since proved itself versatile in any swift water or white water rescue environment, he said.
The boat is designed to minimise bow steering with a lower centre of gravity due to the engine sitting below water level – like a keel. "This has made it very stable, much more so than a jet ski because it has a tube on the side," Geeling said. "Another aspect that we engineered into it is that the hull floods at rest to lower it in the water, and then flows out of the hull when you get going." The end result was high-speed manoeuvrability without the safety risk posed by outboard engines or hard hulls.
The boat is a development joint venture between Admiral and Droomers Yamaha. It grew out of a commission to supply a Mauritian client with 25 hybrid jet RIBs, which involved cannabilising jet ski parts and inserting them into a purpose-built hard-bottomed RIB.
Said Geeling: "You could say we have come up with something that almost perchance has just hit a sweet spot. Normally hybrids are compromises but this is not – it is a new class of craft."