New partnership for smaller craft and adventure syndicate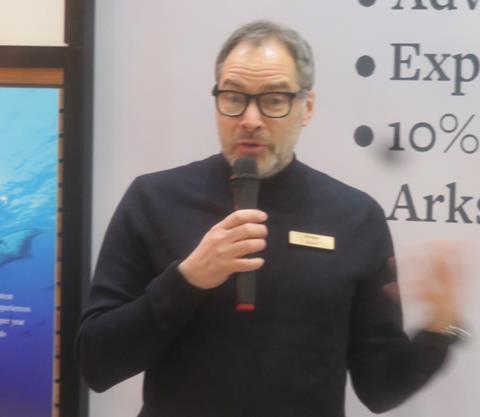 Just a year on from its launch as a new expedition yacht brand focused on strong eco-related credentials, UK-based Arksen announced new initiatives at boot Düsseldorf 2020 that increases the range of craft it is offering and a new Adventure Syndicate programme. The brand was founded by Jasper Smith.
In terms of the three-model range that it launched last year, namely the Arkensen 70, Arksen 85 and Arksen 100, work is due to start on building the Arksen 85 in April.
John Solomon, who oversees sales for Arksen, told IBI: "We will be ramping up work on Arksen 70 because of the level of enquiry we have received and work this alongside building the 85. We have also received requests for a smaller Arksen of around 18m (60ft), so we will be looking into that."
As the new-build plans move forward, so a dedicated area within the Wight Shipyard in Cowes where the yachts are to be built will be provided.
Since the launch of the brand last year, Arksen has set up a partnership with Ring Powercraft to jointly develop a range of versatile smaller craft in the three sizes of 4.5m (15ft), 11m (35ft) and 14m (45ft). These will be marketed as the 'Arksen Adventure Vessels powered by Ring' and they will be designed and built to accommodate a wide range of uses such as pleasure, adventure, diving, tourism, charter, expeditions and research.
The Arksen Adventure Vessel series is based on Ring Powercraft's high-performance hulls known for the exceptional manoeuvrability and rough weather handling. They are already well used in commercial and military markets and through this new Arksen series will be extended to the leisure market. The range will have various propulsion options including outboards, sterndrive and water jet propulsion systems working with petrol, diesel and hybrid power plants.
To complement the expansion of the vessel ranges, the new Adventure Syndicate has been launched which offers an innovative new ownership model which provides access to a multi-year cruising programme at a significantly lower cost. Also part of this initiative is the new Arksen Explorers Rally in a cooperation with the Pelorus adventure tourism company.
The Rally is a concept evolved from both companies' commitment to ocean conservation, exploration and a desire to expand the horizons of luxury travel. Designed to enable friends and familiesto explore the world's wilder lands, the initial Viking Saga and Middle Seas Rally will take place in 2021.
The Arksen Foundation, which is a non-profit company which contributes to research programmes to support the identification of new species, launched its new lead campaign at boot Düsseldorf which is '10% for the Ocean'. This is inspired by the need to preserve the ocean ecosystems and is designed to move the needle for ocean conservation funding and set new standards for targeted generosity.