Canadian MOB gear manufacturer looking to build export business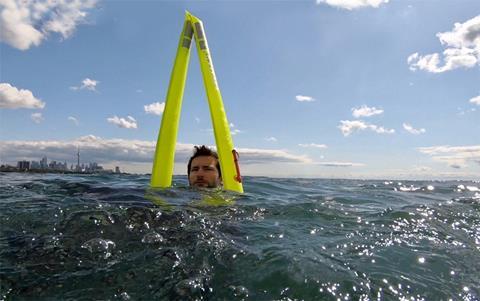 Toronto, Canada-based safety equipment manufacturer SeeArch Inc is looking to build its international distribution on the heels of being presented with the 2019 Marine Industry Award by the Canadian Safe Boating Council.
The company was recognised for its unique SeeArch inflatable man overboard (MOB) locator device which, when deployed, inflates a 5ft tall, marine yellow arch over individuals who have fallen overboard, making them much more visible to would-be rescuers. The device, which is worn around the waist, also acts as a sling to help rescuers lift the person out of the water.
Protected by patents in seven countries and with additional patents pending, SeeArch brings a unique level of protection to boaters, says partner Michael Homer. "There are many products that help someone who has fallen overboard once you find them," he says. "But a person floating in rough seas can be extremely difficult to spot even in full daylight. That's where the SeeArch comes in."
SeeArch Inc developed and owns the IP for the SeeArch device, which is manufactured and distributed in Canada under contract by PFD manufacturer Salus Marine as well as sold directly through the SeeArch website. Homer notes that while the recent award win has brought the company considerable exposure in its Canadian domestic market, SeeArch Inc is now working on expanding its international distribution.
"We plan to exhibit at the Annapolis Boat Show, and we are engaged in ongoing discussions with rep groups serving the US market right now," says Homer. "We're also looking to exhibit at METSTRADE and potentially enter the SeeArch in the DAME awards there as a way of letting people know that it exists."
Inventor Neil Darroch was inspired to develop the SeeArch product after meeting a sailor who fell overboard and was only spotted by rescuers after waving his arms for a considerable length of time. "He was extremely fortunate, but I was left wondering what might have happened if he was injured or incapacitated, and unable to wave," said Darroch. "They wouldn't have found him."
That chance meeting led Darroch to begin developing a device that would make an individual in the water easier to spot. "To find a person floating in rough water, it's like trying to spot a floating coconut," says Darroch. "This is something you wear around your waist so it's not restrictive yet provides tremendous visibility even in big waves. There's even a pocket where you could pack an optional strobe light which can illuminate the whole 5ft-high arch so you can see it in the dark."
With the product details finalised and production underway, the company has now shifted focus to bringing more visibility to its MOB device. "Being a single-SKU company can make it difficult for third-party distributors to work with us," says Homer. "So we've been selling directly to retailers and talking with rep companies so far. But we don't know where this could ultimately go. We also have ideas for additional products, so we're certainly open to where that could lead."