UK distributor now offering Rock Oil range of high-performance oils and lubricants
Bainbridge, which claims to be the UK's only distributor servicing the marine, sail making, cover making and watercraft markets, is now offering the Rock Oil range of high-performance oils and lubricants to its customers.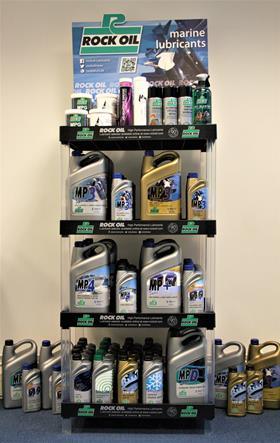 Bainbridge and Rock Oil have agreed a technical partnership with both companies keen to expand the product offering and improve service to all aspects of the leisure marine market.
"With Bainbridge's unique position and ability to meet the changing demands of the UK market; it is a natural fit for us to be forming more strategic and technical partnerships with our suppliers – Rock Oil is the epitome of this", says Gavin Lacey, Bainbridge commercial director.
Established in 1928, Rock Oil is a 100% family-owned and run British manufacturer of high-quality lubricants. Operating from a purpose-built site in Warrington in the North West of England, Rock Oil has an on-site laboratory and blending plant to ensure that any customer requirement can be met and satisfied.
Rock Oil has been producing world-class lubrication for over 90 years, supplying numerous World and British championship winners.
Greg Hewitt, managing director: "We are thrilled to announce our partnership with Bainbridge for our marine lubricant range in the UK. Rock Oil has a long-standing history of producing the very highest quality lubricants and the marine range is no exception. In collaboration with Bainbridge we are launching a revitalised marine product range, details of which will be announced through both of our respective media channels. Our partnership with Bainbridge will promote the brand to an even greater audience and we look forward to working with them in the coming years and building a strong market presence in the marine sector adding another top tier product to their extensive range."