SA builder's latest model, the Balance 482, will be a scaled-down version of the Balance 526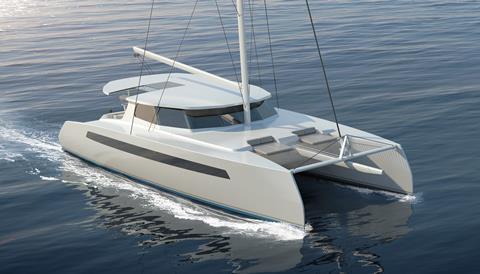 Balance Catamarans has added yet another catamaran model to its expanded range, this time a scaled-down version of the Balance 526, the company announced on Monday.
The Balance 482 will be built under licence by newly-established Balance Catamarans Cape Town, owned by South African boatbuilder Mark Delany of Two Oceans Marine. The new model, with a slightly reduced waterline length, retains the same characteristics as the 526 and is a design collaboration by Balance president Phil Berman and Anton du Toit of Du Toit Yacht Design.
Berman said the expanded range is in response to customer demand. "In listening to feedback over the last several years, it became clear to us that many sailors wanted what the Balance 526 had to offer in a slightly smaller package and lower price point," said Berman in a press statement.
"With the new Balance 482 we hope that we are able to further restore balance to the catamaran universe in the under 50ft category. It's an added bonus to be working with Mark Delany with whom we have worked before on other custom catamarans. He's a second-generation boatbuilder with deep skills and integrity and a history of proven results."
Last year Balance redesigned its original 601 model – now known as the Balance 620 – produced by joint venture partner Nexus Yachts in the Eastern Cape. Earlier this year Berman also formally announced his latest partnership with Two Oceans Marine, aimed at producing slightly larger open ocean catamarans and now also the 482. Two Oceans specialises in luxury custom cats in the 7m-25m range.
Berman said the 482 would add further positive momentum to the Balance footprint in South Africa, with a further four 526 hulls due to be launched within the next year. "We never wanted to grow the company too fast or lose touch with why we started in the first place," he said. "We approach each boat as a work of art, but are palpably aware that our customers are risking their lives sailing the products we build. It is one thing to build fast and beautiful catamarans, but they must be built robustly enough to withstand the worst weather a sailor might encounter," Berman said.