The UK engine distributor has added Shire electric outboards to its marine portoflio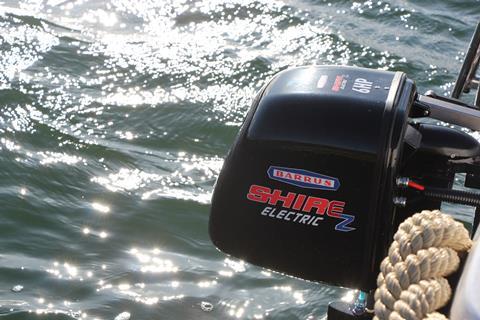 UK-based engine and equipment distributor Barrus has added a new range of electric outboard motors to its Marine line-up.
Three outboard engines from Shire are currently available in 6hp, 10hp and 20hp variations. The 48V outboards have a variable speed range that can be locked, making them suitable for commercial and hire-fleet use.
With an adjustable leg length from short to long shaft, the outboards are ready to pair with a range of vessels and the outboard tilt lock and adjustable transom angle position make rigging easy.
The outboards have coolant reservoirs with a re-circulation pump housed within the leg, so no dirt or sand enters the system. Their compatibility with Mercury Marine prop shaft spline makes this easier as they are readily available in different sizes for spares or replacement from Barrus.
The system is also belt drive, so no shafts, gears or oil changes are required, ensuring hassle-free maintenance. Additional options are also available to enhance performance and ease of use, including battery options such as lithium ion batteries and multiple battery packs that can be linked.
The Electric Boat Company Ltd, a UK firm that operates a luxury self-drive hire fleet on the River Thames, has placed the first order at Barrus for four 6hp Shire electric outboards.