Group maintains strong presence with help from Simpson Marine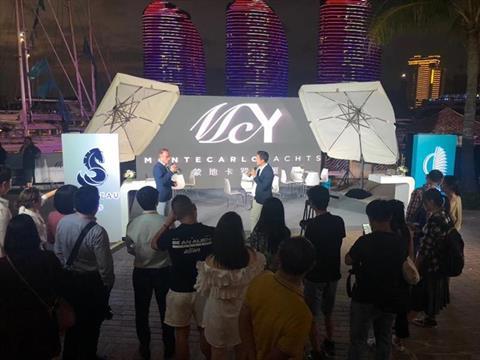 Beneteau Asia Pacific has reported a good response from the 10th China Rendez-Vous held at Visun Marina in Sanya, Hainan from December 13-16. As always in this region, its presence was underpinned by Simpson Marine, the regional dealer for most of the Groupe Beneteau brands throughout Asian countries.
The event is described as China's leading luxury lifestyle gathering and yachts have always been an integral part of the wide range of products exhibited.
For the 2019 edition, Beneteau Asia Pacific showed three models – the Lagoon 40, Lagoon 560 and the Oceanis 51.1. The company also held a press conference to provide an update on the group's expanding number of brands and activities across the global marine recreational industry.
Groupe Beneteau, through its Asia Pacific arm headquartered in Hong Kong, and the strategic cooperation with Simpson Marine, has been a loyal supporter of the China Rendez-Vous since it started in 2010, making it one of the strongest promoters of the yachting lifestyle in China.
Beneteau Asia Pacific also participates in other shows in Xiamen, Shanghai, Dalian, Shenzhen and Qingdao, as well as regional events in Singapore and Sydney, and Sanctuary Cove in Australia.
With regards to Hong Kong, the region's most mature market, the 2019 Hong Kong International Boat Show (HKIBS) was postponed, and the Hong Kong International Cruise & Yachting Festival (HKICYF) was reportedly restricted, in part due to the protests the territory has experienced in recent months.
News of the HKIBS cancellation came from a newsletter issued by the Hong Kong Boating Industry Association (HKBIA). The association said: "The HKBIA had planned to participate in this show to represent members' interests. With more than 90% of the exhibitors opting for a postponement, the annual HKIBS at Club Marina Cove held usually in the first week of December was postponed to 2020. The exact dates for the rescheduled show will be released at a later date. We plan to participate in the show once it is rescheduled and will keep members informed of progress."
The HKIBS was due to be held from November 28 to December 1, 2019 at the Marina Cove marina.
The second edition of the HKICYF, which is organised by the Hong Kong Cruise & Yacht Industry Association, was rescheduled from earlier dates and held at the Kai Tak Runway Park from November 17-20, 2019. Among the exhibitors were local dealers for the Ferretti brands, Princess Yachts, the Italian Sea Group and Asia Yachting, which represents Groupe Beneteau brands Monte Carlo Yachts, Prestige and Scarab plus Nautique.