Port Ginesta in Barcelona chosen as home for year round boat trial facility
After a lengthy study of where to locate and open a new permanent trials base, Beneteau has chosen Port Ginesta in Barcelona. The inauguration, attended by Annette Roux, Luca Brancaleon, general manager of Beneteau, Pere Padrosa, general manager of the marinas and airports of Catalonia, Rodolf Guasch, the brand's Catalan dealer and 35 European journalists, took place at the end of October. The Port Ginesta base will allow customers, journalists and partners to try out new sailing yachts and motorboats all year round, in addition to big boats proposed by the Vendée boatyard.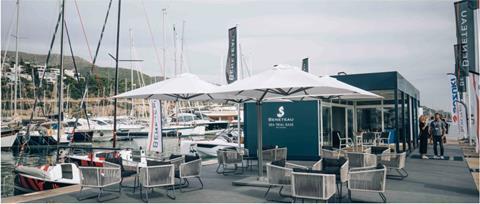 Among the four sites considered – Barcelona, Cannes, Palma and Nice – Port Ginesta was the clear choice said Beneteau, for technical reasons and for its overall attractiveness. Yves Mandin, manager of the project and of the Premium Service, stressed that apart from the close proximity to an international airport, the city's vitality and its cultural influence, "Barcelona has a mild climate and excellent sailing conditions. The Port Ginesta marina is well-sheltered and access to the sea is quick, with no channel as you enter the port. What's more, we have succeeded in obtaining a dedicated building for 3 years and eight 15-metre moorings in the marina. It has also be agreed to extend this to cater to smaller boats."
Up until now, the builder combined 10 days of press trials and customer trials twice a year. This short-term solution meant customers had to wait several months before being able to try out a boat they were interested in. By offering trials all year long in a dedicated base flying the brand's colours, Beneteau says it is giving its customers and the press a new experience centred on high availability of boats and teams with increasingly customised guidance and greater comfort.