Buyers from five continents will take delivery over the 2020-22 period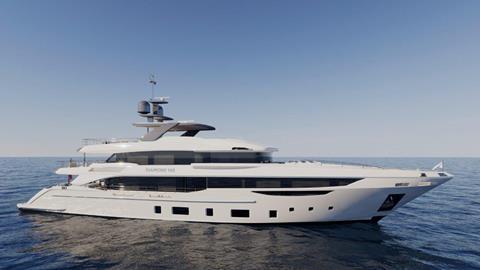 In the space of a recent few weeks, Benetti has secured contracts for five superyachts ranging from 38m (125ft) to 50m (164ft), with deliveries due between 2020 and 2022. Benetti told IBI that the buyers are spread across five continents and that MarineMax was not involved in any of the deals.
The yachts recently sold are:
FB602, a 50m B.Now
BP002, the second hull of Diamond 145, the 44m Class category flagship
BO104 and BO105, the fourth and fifth units of Oasis 40M, a sophisticated and elegant 40m yacht
BF110, the 10th hull of the 38.1m Fast 125
"Our latest products have won over the international yacht market," said Franco Fusignani, Benetti's CEO. "These sales confirm the brand's winning choice to add to the high-quality consolidated 'Made in Italy' an international and increasingly innovative vision."
He added: "Once again Benetti has managed to amaze with unprecedented innovation, thanks to its decision to work with a new designer and use of cutting-edge technologies, but also to the in-depth study of improvement of production process control, resulting in more quality."
After the sale of the first B.Now to a repeat Benetti customer from the Middle East, the second contract has now been signed for B.Now 50M. This custom yacht with a steel hull and an aluminium superstructure is 50m long and stands out not only for the extremely short delivery times, but also for offering six cabins for 12 guests and six cabins for 10 crew members. A product of the shipyard's collaboration with UK design firm RWD, the customisable layout is developed through newly-designed exterior contours, welcoming a brand-new nautical design.
As to the Benetti Diamond 145, Alex Krykanyuk from Fraser Yachts acted as a broker, and Benetti has also sold the second unit of Diamond 145, the Class category flagship, 44m (144ft) in length, with a fibreglass hull and a tonnage of 456 tonnes. The Diamond 145 has a range of 3,800Nm at a cruising speed of 11kt. The exterior designer is Giorgio M Cassetta, with an interior by the Benetti Interior Style Department.
The two Benetti Oasis 40M sales, number four and five in the series, are vessels of 40.80m (134ft)-long and with a displacement of 310 tonnes. The Oasis 40M has a range of up to 4,000Nm at a cruising speed of 11kt. This model holds international scope as it has been bought by owners from America, Asia and Europe. This is also down to the design which is a joint effort combining 'Made in Italy' excellence by Benetti, with a lifestyle concept by UK design firm RWD, and interior design with the imprint of New York firm Bonetti/Kozerski Architecture.
The fifth is for the 10th Fast 125 unit with exteriors by Stefano Righini and interiors by London-based design firm RWD. At 38.1m (125ft) in length and with a displacement of 197 tonnes, this Class category yacht has a range of 1,750Nm at a cruising speed of 12kt.