US boat race, designer and builder Earl Bentz has started a new business venture called Caymas Boats
Legendary US boat racer, boat designer and boatbuilder Earl Bentz is back in the boat business with a new brand being built at his former factory in Ashland City, Tennessee.
Caymas Boats is the new venture by Bentz which will produce fiberglass fresh and saltwater fishing boats beginning in February.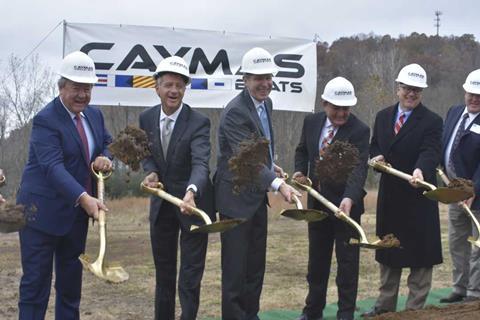 According to a State of Tennessee news release, and reporting by The Tennessean and the Nashville Business Journal, the company's US$30.2m investment is expected to create some 280 jobs over the next five years, many filled by former employees of Bentz's Triton Boats.
Two existing buildings, where Triton Boats were once made, will be renovated for the new Caymas Boats factory. An additional building and 13 acres across the street from the existing facility will also be utilised.
Bentz began working in his uncle's marine dealership at the age of 14, where he began racing boats at age 16. He was part of the famed Mercury Racing factory team of the 1970s that included two other legendary names that went on to build high-performance boats: Reggie Fountain and Bill Seebold Jr.
In 1975, Bentz began designing boats for Hydro-Sport Boat Company until 1983 when he left to begin Stratos Boats. In 1987 he sold his company to Outboard Marine Corporation (OMC), and served as president of its boat group until 1996. That year, with several of his key management team from OMC, he founded Triton Boats, which became the leading producer of wood-free boats in America.
"All of us at Caymas Boats are thrilled to bring fibreglass boatbuilding back home to Ashland City," Bentz said in the news release. "I'm especially proud that many area craftsmen who formerly built Stratos, Javelin and Triton boats have already signed on to the Caymas workforce. These loyal and highly skilled men and women already have decades of boatbuilding expertise, ensuring that Caymas Boats will lead the marine industry in quality and innovation."
Caymas will launch with a 27ft saltwater bay boat and a 21ft bass boat. It expects to add additional models in the future.