Italian equipment producer teams up with Timage to produce and market a new line of transom and side doors for the UK market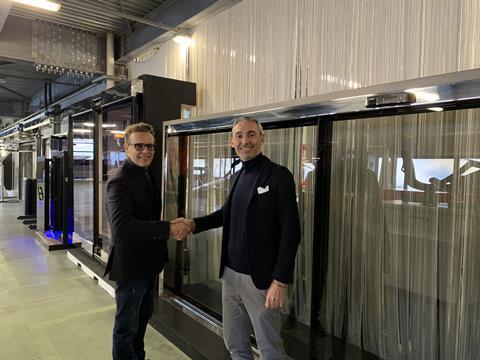 Italian equipment manufacturer Besenzoni has signed a new partnership agreement with Timage, its UK distributor for more than 40 years. As part of the deal, the two companies will produce and market a new line of transom and side doors specifically designed for the British market.
The new plan aims to strengthen the bond between the innovation and production capacities of Sarnico, Italy-based Besenzoni and the infrastructure of Timeage – a UK company from Essex that has worked with Britain's leading players in the boat market for several years.
The agreement concerns the manufacturing of transom and side doors, both in automatic and manual versions, offered with a series of customisable finishes.
"So, with the signing of yet another cooperation agreement, a line dedicated to British shipyards has been launched for the express purpose of satisfying the aesthetic and functional needs of this market segment," says Besenzoni in a statement.
After signing the agreement, CEO Giorgio Besenzoni said: "This is an agreement that makes us proud and brings us even closer to our customers."
With sector experience spanning decades, Timage Ltd is a UK manufacturer and supplier of high-quality marine fixtures, fittings and hardware for boats. The company says it has always based its business on quality and a keen eye for design in order to offer its clientele only the best, in terms of products, manufactured either by itself or by carefully selected suppliers, as well as in customer assistance and customisation services.