Turkish boatbuilder becomes 21st member of the Superyacht Builders Association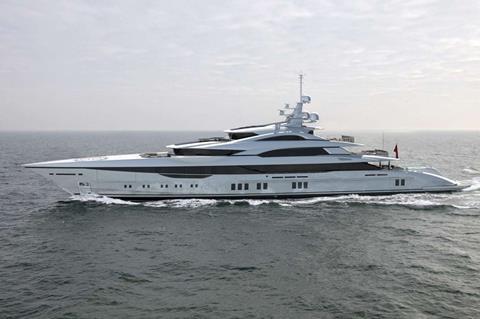 Turkey's Bilgin Yachts has joined SYBAss, the Superyacht Builders Association. Membership is only granted to a yard once it has built three superyachts over 40m (131ft) in length.
SYBAss now has 21 full members, with Fincantieri waiting in the wings as it still has to build a third superyacht over 40m.
Bilgin Yachts has constructed over 20 superyachts in recent years and, according to the company website, is currently working on four projects – although this could be three, as delivery of one is either due or has recently taken place. She was designed by Unique Yacht Design and H2 Yacht Design, Bilgin's regular design partners.
The three projects in build are a Bilgin 220 and two 263 models. The 48m (188ft) Bilgin 156 Lilium, the second hull of the 156 series and a sister to the successful Nerissa, was delivered in 2018 and was shown at the Monaco Yacht Show last year.
The Bilgin 220 is a 67m (220ft) mid-sized superyacht with exterior lines by Unique Yacht Design and an interior by London-based studio, H2 Yacht Design. Being a full displacement yacht, the Bilgin 220 has a customised, long-range steel hull with aluminium superstructure, designed to be suitable both for private use and for charter in the Mediterranean and Caribbean. It is currently under construction with is expected to launch in the summer of 2019.
The first of the 80m (262ft) Bilgin 263 models was again a design combination of Unique Yacht Design and H2 Yacht Design studio. The vessel, which has been built to ABS classification and is LY3-compliant, is down for delivery in early 2019.
Along with her sistership, the two Bilgin 263 superyachts are said to be the largest yachts built in Turkey to date. The second Bilgin 263 hull, to be delivered in 2020, has many common design features with her sister. Once again, Unique and H2 were responsible for the design but the interiors also included the Bilgin Yachts Design team.
To meet demand, Bilgin Yachts has expanded from its Yalova shipyard by adding a new facility at West Istanbul Marina. In total Bilgin Yachts operates four shipyards covering almost 40,000sq m in the greater Istanbul area, with its headquarters in Küçükçekmece.
The 7,000sq m Küçükçekmece facility has the capacity to build four boats simultaneously. One of the hangars can build vessels up to 40m-45m (131ft-148ft), while the other can build two boats up to 55m (180ft).
A portable hangar is also available at this facility, in which Bilgin can build vessels up to 60m (197ft).
The company also has two separate shipyards in Yalova counting 11,000sq m where Bilgin builds steel hulls, aluminium superstructures and does major plumbing and infrastructure works before sending them to the new shipyard at West Istanbul Marina for outfitting and finishing.
The new shipyard consists of two 105m x 26m and two 85m x 28m hangars, offices and an uncovered area spanning almost 14,000sq m.