Freedome Boat Club was acquired by Brunswick in May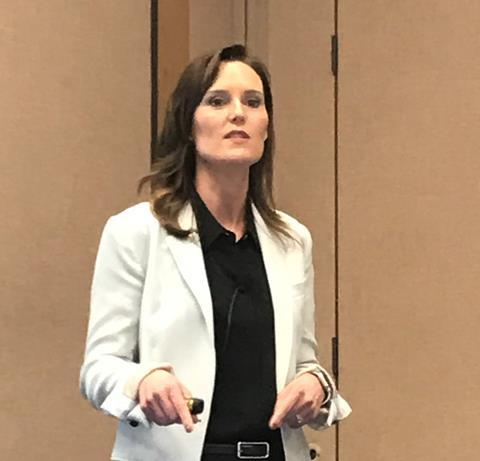 Brunswick Corp used the milestone of the 200th franchise signed by Freedom Boat Club (FBC) to better define its Acceleration Division, which was formed last January with the mission of expanding participation in boating.
"The sharing economy is creating opportunities throughout all industries and is why the Freedom acquisition is going to be powerful for this industry and is such a strong business in the Brunswick portfolio," said Acceleration Division president Brenna Preisser to a group of boating media at the opening of the International Boatbuilders Exhibition (IBEX).
Freedom Boat Club was acquired by Brunswick in May with about 170 outlets and 40,000 members in the US, Canada and France. It signed the 100th franchisee three years ago. The rapid growth since the deal closed is the essence of the Acceleration concept.
"It's not just about going faster for faster sake," explained Preisser, who has spent the last 15 years rising through the ranks to chief human resources officer for Brunswick, a responsibility she maintains.
"Think of a gear shift. We have fifth gear businesses – Freedom Boat Club is an example; we need to hit the accelerator. Freedom is a proven and successful model," she said. "We also have businesses that are in third or fourth gear; we have just commercialised Nautic-On, which will be standard equipment on Boston Whaler and Sea Ray models over 25ft [beginning in 2020]. We also have exciting opportunities that right now are just in first gear; we're piloting and experimenting. And that's the breadth of businesses and innovation assets within Business Acceleration."
Preisser describes the group as "a combination of profitable service businesses" that seek and leverage opportunities and partnerships to make it easier for people to get on the water.
"We're going to lead with connectivity, using technological solutions to enhance the experience. Bring the fun and social aspect of boating into the opportunities to reach new boaters.
"They say It's not really an experience unless it looks good on Instagram. What we do looks good on Instagram; when we ask, how we make this industry relevant for millennials, what we are doing today is relevant and the business models we are in are really cross generational."
But Business Acceleration is not just about product development, Preisser told boating media from around the world. "It is about how we accelerate value creation, and to keep pace you have to have partnerships. Our TechNexus partnership, some of the start-ups that we're investing in, some of our university partnerships, also partnerships in the industry; our dealers and our suppliers, are all critical to advancing value creation."