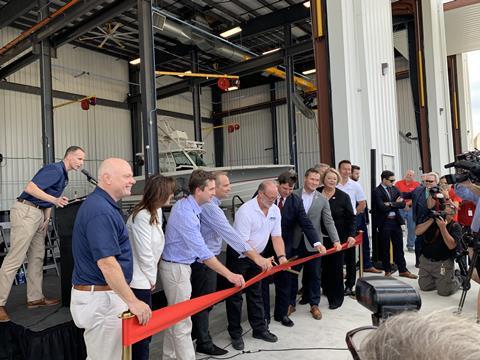 With Florida Governor Rick DeSantis, Congressman Michael Waltz, and a host of local business and government leaders on hand at the Boston Whaler campus in Edgewater, the Brunswick Boat Group opened its 45,000sq ft Technology Center announced in January of this year, as the home to what the company boasts is "the industry's most formidable boat product development, engineering and design teams."
But among the ceremony and talk of technology, jobs and economic impact was a human moment; when 43-year Brunswick employee Eric Skaggs, a [regulatory] compliance specialist, was called before some 200 colleagues, elected officials and company executives to serve as sole ribbon-cutter opening the new facility on the site where he's worked the past 21-years.
"Today, we are 160 strong with over 1,500 years of combined industry experience," said Lenn Scholz, the technology center's vice president of product development, referring to the team assembled to "leverage the tremendous scale of the Brunswick Organization," according to CEO David Foulkes.
Though officially opening today, the group has already made significant contributions to projects for Brunswick's aluminium and pontoon brands. In addition to product development, the technology center will be focusing on new advances in boat construction methods and materials, electronic technologies, connectivity, and more.
The new facility is part of a US$42m expansion currently underway at Whaler's main campus. The technology center itself has added 71 jobs since October 2018 with plans to add up to 50 more jobs over the next two years.
With the growth, Brunswick's more than 1,100 workers makes it the largest employer in Florida's Volusia County, according to County Council representative Deborah Denys, who added that for every 10 jobs added at Boston Whaler, nine jobs are created elsewhere in the community to support them.