On the heels of a strong 2018, Brunswick looks ahead to continued growth in its propulsion, boats and P&A business units.
Brunswick Corporation tabled an update of its marine businesses at a special event for the financial community yesterday in Miami, held in conjunction with the opening of the Miami International Boat Show. The presentation delivered an overview of the company's newest marine products and technologies along with an update on its financial outlook and capital strategy.
Brunswick CEO David Foulkes presented a business overview which noted the company achieved record sales and earnings in 2018, fueled by robust demand for outboard engines in general and in particular by the new 175 to 300 horsepower platform unveiled at the 2018 Miami show. Foulkes also pointed to the completion of Brunswick's acquisition of Power Products as strengthening the company's PA business. Sales growth contributions were represented across the company's product lineup, said Foulkes, allowing a full-year operating margin increase of 60 basis points to 7.0%.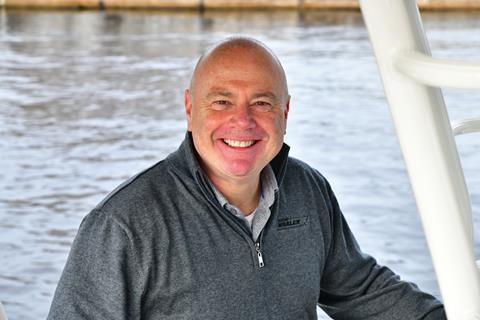 "Our combined marine portfolio had a fantastic 2018, which led to the company's ninth consecutive year of adjusted EPS growth," said Foulkes. "In the fourth quarter, Mercury's propulsion business continued to excel behind powerful demand for new outboard products, which generated 20% revenue growth in the quarter."
The parts and accessories business, which was augmented by the first full-quarter of results from the Power Products acquisition, also delivered impressive top-line and earnings growth. The boat business achieved solid earnings improvements, led by healthy growth in Boston Whaler, Harris pontoons, and Sea Ray Sport Boats and Cruisers. "We anticipate strong improvement in both gross and operating margins in our combined marine business, given ongoing benefits from new products and acquisitions, volume leverage, and cost reduction activities," he added. "Operating expenses are estimated to decline slightly versus 2018 on a percentage of sales basis. Operating earnings for the marine business are expected to grow by a high-teens percentage for the year."
Foulkes noted that Brunswick continues to derive the bulk of its earnings from the red-hot US market, representing 71% of its 2018 revenues followed by Europe (11%), Canada (7%), and the Asia-Pacific region (7%). Global revenues in combined marine segments grew by 12%, with 8% growth on an ex-acquisition basis.
"We're really kind of firing on all cylinders on the marine side," declared an energized Foulkes. "It's a very dynamic time in the market. There's a lot of things going on from a kind of new business model and technology perspective that's being drawn into marine. We're a big part of that, so that makes the future even more exciting than it would."
Foulkes notes that Brunswick has invested more than $1billion over the last 10 years in capital improvements to boost production capacity and position the company for future growth. "We continued to invest very heavily in that area, and I think that's evidenced by the frequency that we bring out new product. In 2018 we released 25 new engine models," he elaborated, "our biggest launch ever. Product leadership and service leadership is our DNA and it will be going forward. We will be bringing out, both on the propulsion side of the business and the boat side of the business, a number of very significant new products in the next 12 months. It'll be a very, very exciting time."