Brunswick Corporation's (BC) completed sale of its Life Fitness division has resulted in the loss of more than 100 jobs in initial restructuring moves, while adding $490m in cash to the company's acquisition coffers. At the same time Brunswick's Mercury Marine division is beginning a "temporary stoppage" of a few of its engine production lines.
According to a Brunswick statement last week, the corporate layoffs involve "a range of measures to streamline its cost structure to support sustained earnings growth and provide continued headroom to fund important product, digital, and growth-oriented business initiatives."
The move is expected to lead to restructuring charges of US$6m and lower costs on a run-rate basis by some US$17m. The statement noted that chages would include consolidation of two Chicago, Illinois area offices with the elimination of general and administrative functional support positions, including "a handful of people on the help/support side that were in [Mercury Marine] which are part of this group," company spokesperson Lee Gordon told IBI in an email exchange on Friday.
Responding to inquiries by IBI, Gordon denied any additional layoffs at Mercury Marine's Fond du Lac, Wisconsin headquarters. "There are not manufacturing layoffs but a temporary stoppage of a few of the production lines," Gordon wrote.
Gordon's email continued: "The combination of unseasonable weather in the first half of the year, flooding in the Midwest and a softness in the market, we have made the decision to enact a temporary shutdown of certain production lines in our Fond du Lac plants that will affect a select number of calendar days over the next two months. This will not affect all employees, but it will impact certain employees who work on or support impacted production lines.
"We have done everything we can to avoid this temporary situation, but the slowness of the season coupled with the tariff impact to our business has forced us to make this decision," Gordon concluded.
Gordon emphasised that the temporary layoffs at Mercury will not impact the V8 and V6 outboard production lines or its distribution centre. Delivery of the two outboard products have been lagging since their introduction as the company has moved to keep up with an unexpected consumer and OEM demand.
Gordon wrote that he could not share all of the requested details, likely to be seen in what BC calls "an additional and more comprehensive set of initiatives [which] will be included in Brunswick's second-quarter earnings call scheduled for July 25, 2019."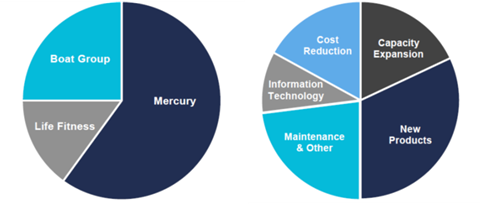 The completed sale of Brunswick's Fitness business to investment firm KPS Capital Partners last Thursday, also provided a cash injection of approximately $490m. "With the sale of the Fitness business, Brunswick's focus is now solely on its unique and formidable marine platform," Brunswick Chief Executive Officer David M Foulkes said. "The closing of this transaction also enables us to advance our previously discussed capital strategy objectives, including re-engaging in share repurchases." The cash also adds to Brunswick's war chest for further acquisitions in the Parts & Accessories sector where the company has previously indicated it will continue to look for growth opportunities.
Brunswick's shares soared Friday on the New York Stock Exchange, up 3.64%, to close at US$46.01.