US-based Brunswick Corporation will make a splash in the new year as a first-time exhibitor at the 2020 Consumer Electronics Show (CES) – the world's largest electronics and technology show, well-known for the introduction of cutting-edge innovations each year
US-based Brunswick Corporation will make its debut appearance at the 2020 Consumer Electronics Show to highlight its claim of "technology leadership in recreational boating." The main event takes place January 7-10, 2020 in Las Vegas, but Brunswick will also participate in a preview media event in New York on 7 November, called CES Unveiled New York.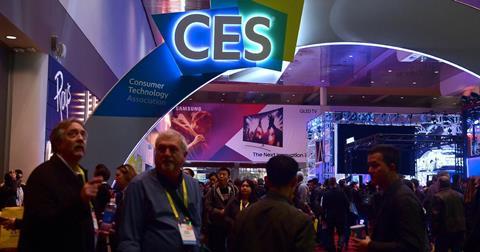 Brunswick said it will be highlighting its ACES strategy – Autonomy, Connectivity, Electrification and Shared Access – which it says is helping to define the future of the marine industry. In addition to presenting new marine products and technologies, Brunswick's exhibit will include an engagement theater offering the opportunity to visualize and interact with the products using augmented reality.
"CES is such a wonderful event because it brings together engineers, technologists and innovators from many industries with the common aim of applying technology to simplify and enhance experiences," said Brunswick CEO Dave Foulkes. "We are thrilled to present our marine product and technology solutions…. offering show attendees an exciting perspective on the future of boating and on Brunswick's unique capabilities."
The boating industry made a stir at CES last year with the first-ever exhibit of a yacht in the show – the 78-foot Adonis 'smart- yacht – a collaboration between tech company Furrion and Turkish boat builder Numarine.
With the boating industry's increasing foray into smart technology, automated docking and steering solutions, and integrated monitoring and remote control systems, it's not surprising to see a growing presence of key players from the sector at CES.
In 2018, Brunswick's Part & Accessories Business posted $1.2 billion in revenues (excluding distribution) and launched a new Boat Group Technology Center as well as a Business Acceleration Division in the past year in its bid to stay in the forefront of advances in the boat business.
Agenda
Nov 7, 2019 - Brunswick to participate in CES Unveiled New York
Jan 6, 2020 - 4:00-4:45pm PST - CEO Dave Foulkes will conduct a media event at the Mandalay Bay Hotel, Oceanside Room E, to outline Brunswick's technology strategy and vision for the company
Jan 7, 2020 - Opening Day, 10:15am PST - Brunswick product launch - Exhibit #28021, South Hall 2 of the Las Vegas Convention Center