Smart Industry Business Solutions acquires significant share in Caribbean chandlery group
Buudget Marine, one of the Caribbean's biggest boating retailers, has announced that Smart Industry Business Solutions has purchased a significant share in the business and has provided retail and IT consultancy next to facilitating improved financing.
Tasks have shifted slightly during this process. Budget Marine founder Robbie Ferron continues to lead the flagship store and main distribution centre in Sint Maarten.
Budget Marine group activities consisting of Business Processes, IT and Marketing are coordinated by a Board of Supervisors headed by Nicholas George, manager of Budget Marine Grenada.
The ABC islands (Aruba, Bonaire & Curacao) are now coordinated by Tony Waldron, who is also the manager of Budget Marine Aruba.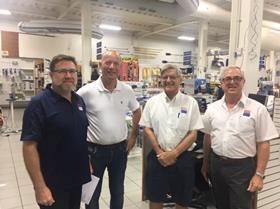 Regional Sales Management is led by Thierry Vigneron and Jolyon Ferron is the new Sales Manager in Sint Maarten.
"The Budget Marine group has recovered from the recessionary period caused by the damages to some of its locations by Hurricanes Irma and Maria, and is enjoying an excellent winter season," says the company in a statement.
"The Caribbean marine business remains strong and with continued growth the company is developing its distribution and retail activities with a bullish approach and a strong product portfolio."
Budget Marine claims to be the largest retailer of boating supplies and accessories in the Caribbean. The company has 12 stores in nine territories Caribbean-wide, catering to the small boat cruiser, race boats, superyachts, sport fishermen and more.