Company acquires Silent 55 catamaran for charter voyages in Myanmar's Mergui Archipelago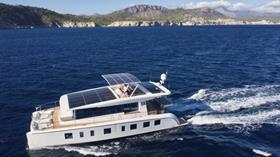 A 16.7m Silent 55 catamaran has been purchased by Burma Boating for charter voyages in the Mergui Archipelago in Myanmar. A subsidiary of the Memories Group, Burma Boating is a leading player in the growing Myanmar leisure marine market.
Currently being exhibited at the Thailand Yacht Show & RendezVous in Phuket by Silent Yachts from Austria and making its Asian debut, the S55 was globally launched at Cannes last year and can accommodate six guests and three crew. It is said to be the first solar-powered yacht in Asia.
The S55 features a flybridge commanding 360-degree views, a 40sq m air-conditioned salon and four cabins, including one 7m-wide suite. Its 30 mounted solar panels create 10kW, which allows her to travel long distances on an average sunny day (though she also maintains a fuel-based back-up engine). Two silent 30kW motors drive the S55 to a maximum speed of 12kt.
"The benefits of sailing with solar power cannot be overstated," says Burma Boating's general manager, Eric Poepper. "The S55 will leave a minimal environmental footprint but will offer travellers unprecedented sailing comfort. She sails as silently over the waves as any sailboat, but without depending on the wind.
"When anchored, even the usual generator noises will vanish and become a memory of the past, letting the passengers focus entirely on the magnificence of the Mergui islands, landscapes and sunsets."
A daily charter rate for the S55 is US$3,200 a day for six guests on a week charter. Burma Boating also offers a choice of four- or six-day cabin charters leaving from the port of Kawthaung in southern Myanmar each Saturday, from November through to May. A six-day sailing promoted on TourRadar costs US$2,764 per person.
Silent Yachts has two other model sizes in its range – a 19.5m (64ft) model and a larger 24m (79ft) cat.