Production starts on new HH88 catamaran flagship model at Xiamen yard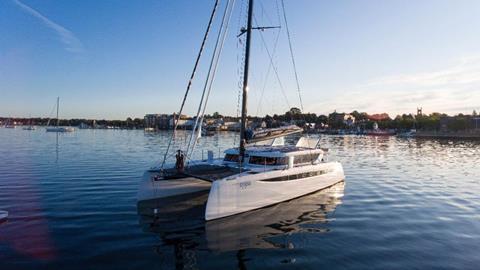 The Hudson Yacht Group, based in Xiamen, China, is experiencing a busy time, particularly with its HH Catamarans division. The later was jointly founded by Paul Hakes who recently returned as Hudson's chief of operations China from a year-long cruising sabbatical.
In terms of HH Catamarans' activities, one of the main developments is that the new HH88 flagship model is now in build. It was designed by the company's long-standing partner, Morrelli & Melvin, and is destined to be a luxury charter yacht.
The HH88 will accommodate 10 guests and four crew and include a fully-enclosed, air-conditioned flybridge with jacuzzi, and a variety of lounging and dining areas. Interior design is a coordination of the company's own in-house designers and the owner.
Hudson had success at the recent Cannes, Newport and Annapolis shows where the HH55 and HH66 were displayed. At Cannes several promising introductions led to multiple European clients scheduling visits to the yard in Xiamen to see the many cats in production first hand.
Another new yacht in development is the HH50 which has already attracted six orders. The HH50 will be launched early in 2020. Currently boat number six begins and boat number one nears completion. The first hull, HH5001 'Tribute', will undergo vigorous quality control in the test pool. All systems will be tested under full load to ensure everything is performing at the level required in real-world conditions upon launch. While in the test pool the mast will be stepped, rigging tuned, sails checked for fit and all running rigging tailed and spliced. Final finishing touches will be completed before the yacht ships at the end of December, just in time to make its grand debut at the Miami Boat Show. Subsequent boats are scheduled to launch every eight weeks, each tailored to its owner's individual requests.
In addition to four HH50s, the first OC50 is underway on the HH production line. The new Ocean Series from HH has a strong and stiff backbone with all structures (bulkheads, frames, floors and beams) built from carbon fibre, yet the hull and deck plating is in E glass composites; this, coupled with a Seldon alloy rig and mini keels in place of the HH line's full depth C-shaped dagger boards, means she will be more easily handled and cost a little less too.