Budget Marine is building a new outlet on the island of Carriacou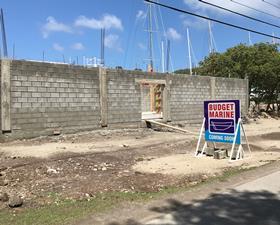 Budget Marine, one of the Caribbean's biggest boating retailers, is constructing a new outlet in Carriacou – an island located 23 miles off the coast of Grenada. The full-service, 2,100sq ft store is being built in Tyrell Bay Marina and is due to open in January 2020.
"Tyrell Bay Marina opened in the third quarter of 2018 and business has been good," says Nicholas George, general manager of Budget Marine Grenada. "We are looking forward to using our expertise and systems to further expand our footprint throughout the Caribbean.
"The island of Carriacou has become a popular destination for cruising yachts and is very close to the group of islands called the Grenadines which are one of the most desired cruising areas of the Caribbean," he adds. "This relatively small location will be the only fully stocked chandlery anywhere in the Grenadines. Boats based at this marina will have the opportunity to be in the Grenadines in a matter of hours rather than the usual full day sail from Grenada to Carriacou, then on to the Grenadines."
Tyrell Bay Marina is equipped with a 150-tonne travel lift that is capable of hauling boats of up to 130ft. They are also equipped with a 30-tonne shore crane for engine and mast lifts. The yard itself offers long and short-term storage for over 200 boats and an 18ft maximum depth in the Travel Lift Bay.
Budget Marine claims to be the largest retailer of boating supplies and accessories in the Caribbean. Established in 1982 in St Maarten, the company has expanded to 12 stores in nine locations Caribbean wide, with the 10th location on its way.