US boatbuilder also has plans for future plant expansion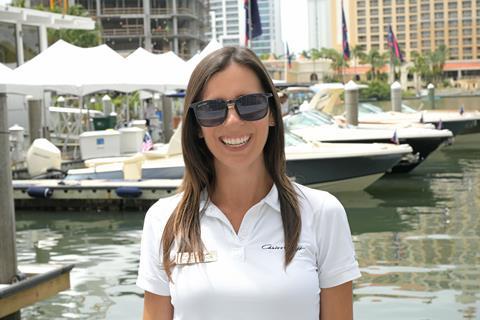 Florida-based fibreglass boat builder Chris-Craft Boats is celebrating its 145th anniversary this week with the introduction of two new models and the announcement of plans to expand its Sarasota production facility.
The company kicked off its 2020 model year Summer Showcase event on Saturday with the global debut of an outboard-powered variant of its popular Launch 25 GT model, along with an all-new Launch 28 GT Surf Edition, the first model in the Chris-Craft lineup designed with wakesurfing in mind.
In all, Chris-Craft presented 14 different models on display in the water at the Hyatt Regency hotel marina and indoors in an air-conditioned showroom.
"The Launch GT line has really been doing well for us," says Chris-Craft director of marketing, Allison Scharnow. "It's a new, fresh design that has really found a lot of appeal with both international and domestic buyers."
Having both the new outboard-powered and the continuing sterndrive-powered versions available for sea trials allowed dealers to better appreciate the differences between the two variants. The outboard-powered boat retains the large raised aft sunpad that covers the engine compartment of the sterndrive version, utilising the engine space as a roomy lazarette.
Powered by a Volvo Penta 6.2L V8 generating 380hp, the new-for-2020 Launch 28 GT Surf Edition – complete with a folding sport arch with board racks and rear-facing speakers, a bow thruster and woven Seagrass flooring – was particularly well received by domestic North American dealers. "We had a lot of fun with the Surf Edition," says Scharnow. "It's a boat that should have a lot of appeal with multi-generational families, and we took great pains to ensure that it would be able to speak across generations."
With the company's 200,000sq ft manufacturing plant running at capacity on the strength of strong domestic sales, Chris-Craft announced plans to expand its Sarasota plant with a new addition that will increase its production space by about one-third.
"We're still finalising the design but the target is to have shovels in the ground by the end of the year," says Scharnow. "This expansion has been in the works for some time, and we've been busy working out the details and obtaining the requisite permits and approvals. One thing we're very conscious of is ensuring that we future-proof the design, so it is able to suit our needs for many years to come. We're excited to finally get to this point, because we will need this additional capacity in order to meet the targets in our long-term growth strategy."