UK prop-maker can now deliver bespoke, fully-machined Class S propellers in just two weeks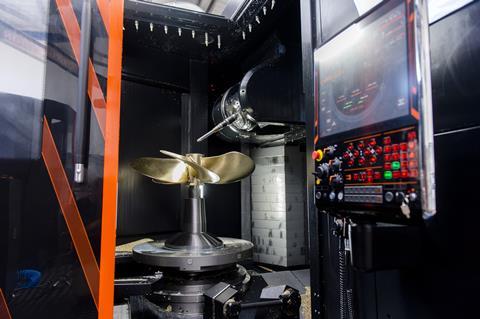 UK-based CJR Propulsion has launched a rapid design and manufacturing service to deliver bespoke, fully-machined Class S propellers in just two weeks. The precision-engineering specialist claims to be the only propeller manufacturer in Europe able to offer this level of responsiveness, following a £4m investment at its Southampton, UK facilities.
The reduction in lead times, for propellers up to 1.5m in diameter, has been achieved through an end-to-end design and production solution that is able to support boat owners and operators in their most challenging moments, says the company.
By combining 3D mobile scanning, computational fluid dynamics and lifting surface theory design software, robotic mould-making, CNC machining, and pick-and-place production automation, six weeks or more can be saved, and the product can be shipped anywhere in the world.
"Regardless of whether or not we have the original vessel and engine data, we can reverse engineer any supplier's prop and stern gear set-up," says Mark Russell, CJR MD. "Subsequently, using the data we gather, we can accurately determine the vessel's existing performance and understand what enhancements are available through our approach.
"The performance, efficiency, and longevity benefits differ from project to project but we've had customers gain as much as two knots in top line speed – just by replacing the boat's original props with ours. We've also solved serious vibration and cavitation issues caused by fitting standard pattern or poorly designed props."
The service has been specifically developed to meet the needs of charter businesses, owners, and new-build and refit yards, who need a high quality but timely solution to damage or performance issues – and it has already been utilised by several early adopters. In one instance, a UK-based superyacht owner was able to replace his damaged props in just 12 days, securing hundreds of thousands of pounds in charter revenue.
The service is also ideal for any boat that isn't meeting its expected performance, where vibration or poor ride comfort are an issue or if a spare set of props are required in a hurry.