AB Inflatables is working at full capacity following the launch of its new ABJET line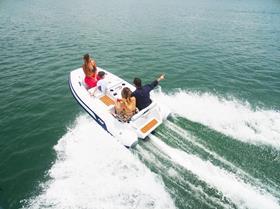 Colombia-based RIB manufacturer AB Inflatables presented a 9.5ft aluminium boat, the Alumina 9.5 ALX, at the METSTRADE Show in Amsterdam last week – a perfect example, says sales and marketing manager Jaime Cristancho, of the quality craftsmanship that AB Inflatables is known for abroad.
Speaking at the show, Cristancho told IBI that AB Inflatables is currently in growth mode, thanks to the launch of its new ABJET line at the Ft Lauderdale International Boat Show (FLIBS) in October last year. AB claims to be the only RIB manufacturer to cover all segments of the inflatables market – fibreglass boats, aluminium and now jet tenders with the launch of the ABJET 330 and ABJET 380.
"Particularly on the ABJET line, this has been a great year," says Cristancho, adding that quality, design, performance and service are the four pillars of the company's success.
According to AB Inflatables, the ABJET line – whether used as a tender or sport boat – incorporates balance, stability and weight distribution for a smooth, comfortable and dry ride. The line is entirely produced at AB's facilities in Colombia, including the hull, deck and inflatable tubes. BRP's Rotax engines are installed at the factory and all boats are tested before delivery.
"We are growing, and our factory is at full capacity," says Cristancho. "We are investing in more products while also concentrating our efforts on growing the current portfolio.
"I can't mention numbers, but sales are up compared to last year and we continue to see a growth curve over the next few years."
As METSTRADE drew to a close, AB's Juan Carlos Mendoza told IBI that the show had been a great success for the Colombian builder. "We've received lots of new visitors and everyone is very interested in the ABJET line. It has given us additional status in the market and people are very curious about the product. We've received wonderful feedback and that's something we're very pleased about."