Work on the new 62m yacht is progressing to schedule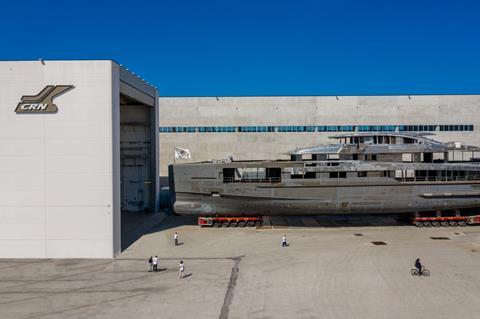 CRN, part of Italy's Ferretti Group, has issued a build update on its new 62m M/Y 138.
The yacht is the result of a partnership between Omega Architects, the Dutch design studio responsible for the exterior profile, and Italian designers and architects Pulina Exclusive Interiors for the inside spaces.
CRN is currently building the new hull, whose flowing, sporty lines form the leitmotif of the concepts developed by Frank Laupman and his Omega team.
Work at the Ancona yard is said to be progressing to schedule. The metal hull and superstructure are complete, and the ship has been moved to another location for the interior fitting-out, starting with the various systems and equipment (pipes, cables and insulation), before installation of the furnishings and décor begins.
With four decks and a subdeck, the layout will feature a double owner's suite plus six cabins on the lower deck, including a VIP cabin, to accommodate up to 16 people on board.
Besides the 62m CRN M/Y 138, CRN says it is also constructing another three fully custom yachts – the 62m CRN M/Y 137, 70m CRN M/Y 139 and 60m CRN M/Y 141 – together with a 50m Riva unit, a Pershing 140 and 18 Custom Line models from 30m-42m in length.