New luxury yacht repair yard begins recruitment
Dutch Damen Shipyards Group and marina operator Adriatic Marinas have launched the recruitment of employees for their joint facility which will repair luxury yachts in Bijela, on Montenegro's Adriatic Sea shore.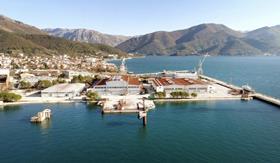 Under the plan, the investment will create 450 new jobs. In the 2020/2021 season, the facility is expected to service 14 yachts, while by the fifth year of its operations the companies plan to service as much as 100 yachts per year, according to data obtained by local broadcaster Radio Jadran.
Last year, the Montenegrin government awarded the two firms a licence to open the facility. The project is estimated to be worth about €20m (US$22.7m).
Adriatic Marinas is the owner of Porto Montenegro, a marina located in the country's Bay of Kotor, enabled with a berthing capacity of some 450 for craft of between 12 metres (39 ft) and 250 metres (820 ft), according to figures from the company.
Damen Shipyards Group runs 36 shipyards worldwide, of which 16 facilities are located in the Dutch market, and 20 shipyards in other countries. The facility in Bijela is the company's first such investment in Montenegro.