UK builder rescued from administration by major shareholder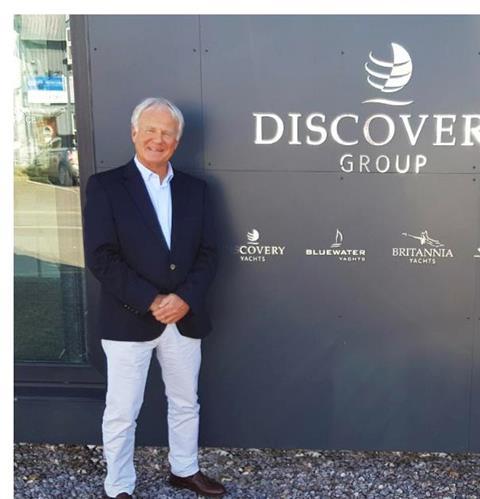 The UK's Discovery Yachts Group (DYG) has been rescued from administration in a pre-pack deal which involved the establishment of a new UK holding company formed by the largest DYG shareholder, Binti Investment GmbH.
A pre-pack deal is a mechanism under UK corporate law whereby the sale of an insolvent company's business and assets is agreed in principle before the company goes into a formal insolvency process such as administration.
The deal, for which no value has been given, means that work on all yachts currently in build or on order will carry on and ensures job continuity for employees.
Timely with the new year, the future of DYG has been assured through the pre-pack deal which sees Binti Marine Holdings Ltd, a UK subsidiary of Binti Holding GmbH, buying the assets of the group. This deal will address the administration of Discovery Yachts Group Ltd and the voluntary liquidation of Discovery Yacht Sales Ltd.
Chris Moore of K J Watkin & Co, Walsall was appointed liquidator of Discovery Yacht Sales Ltd on December 9, 2019, and he was also appointed administrator of Discovery Yachts Group Ltd on December 19, 2019. There was a meeting of creditors today relating to Discovery Yacht Sales Ltd's liquidation.
K J Watkin told IBI in a statement: "The meeting of creditors today related to Discovery Yacht Sales Ltd and confirmed the joint appointment of Chris Moore of K J Watkin & Co and Glyn Mummery of FRP Advisory LLP as joint liquidators.
"Immediately upon appointment, a pre-pack sale was completed to Binti Marine Holdings Limited, a UK subsidiary of Binti Holding GMBH. This business rescue has ensured continuity of employment for all employees and all yachts in build will be completed."
Binti gained its 30% shareholding in DYG through a 2018 crowdfunding round which raised £2.25m against a target of £750,000, plus a latter purchase of 20% more from Sean Langdon, who recently stepped down as managing director. Langdon was replaced by John Burnie, previously group sales director.
As far as is known at this stage, Burnie will continue as managing director working closely with Werner Schnaebele, the owner of Binti. On November 15, 2019, Binti took out a fixed and floating charge over the assets of DYG. Langdon, it was said in a DYG statement last week, "will now concentrate his efforts on developing other projects and consultancy work."
A spokesman for DYG confirmed to IBI that the company, with a "full team and new boat", will be on show at boot Düsseldorf in three weeks' time. The new yacht will be the global debut of the Revelation 480 model.
The downfall of DYG and Discovery Yacht Sales came about through a lawsuit which concerned the delivery of a 58ft yacht called Elusive that was delivered to Andrew and Maria France in 2017. The couple had planned to sail around the world but problems with the yacht, worth £1.5m new, prevented this from happening. The yacht reportedly developed leaks and had navigational problems which made the craft unseaworthy.
Following a court case involving the lawsuit against Discovery Yacht Sales Ltd, the court judgement awarded Mr & Mrs France £900,000 as compensation for the yacht's reduced value; £432,000 to cover the France's legal fees and £260,000 which related to repairs carried out on Elusive in the US.
The exact position of Binti Holdings in the current situation remains to be clarified. However, it holds a fixed and floating charge dated the 15th of November over all the company's assets. Also unknown at this stage is what will happen to the 400 shareholders that came to DYG through the crowdfunding round.
The problems of the Discovery Yachts Group is the third example in just over two years of a UK yacht-builder or refitter facing closure as the result of major issues arising around a single yacht. All three have been in the Solent area.
In December 2017 Burgess Marine closed largely due to problems that arose on the refit of a large superyacht. This was followed by Oyster Yachts, which temporarily went out of business due to problems that arose on a yacht previously delivered. Most of the Burgess Marine assets were sold to Southampton Marine Services and Oyster was acquired Richard Hadida, the gaming entrepreneur.
Enjoy in-depth reporting that gets behind the headlines?
As a New Year promotion to all recipients of IBI news, you are receiving full access to this IBI Plus Premium article free of charge. To make sure you receive original, professionally-researched IBI news items and research classified as Premium Content in the future, please see our subscription options below... credit card payments accepted... discounts available for multi-user Corporate accounts.
Subscribe