New agreement will see US boatbuilder include Dometic digitial switching technology on all models above 25ft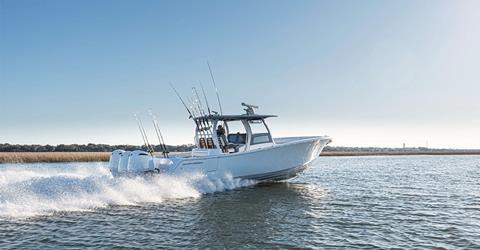 US fibreglass boat builder Sportsman Boats has signed a new supply agreement with Dometic Marine that will see the centre console and bay boat manufacturer incorporate Dometic's digital switching technology in all models above 25ft in length.
The company notes that the integration of the forward-looking digital switching technology will provide the boatbuilder with the ability to offer a better experience for end-users along with significant advantages on the production line by reducing time required for wiring and overall wiring complexity, reducing labour costs and improved reliability for end-users.
"Digital switching is definitely the wave of the future," said Sportsman Boats president, Tommy Hancock. "Eliminating moving parts from the boat means less time and labour costs, as well as less chance for wiring errors or switch malfunctions that could cause issues for the customer."
Dometic Marine president Eric Fetchko says that by allowing control of marine lights, pumps, climate control, batteries, trim tabs, bow thrusters and more through a single digital display rather than an array of individual switches, digital switching allows end users to utilise a branded Sportsman Boats remote control to turn their boat's systems on or off from up to 200ft away, letting them prepare for a day on the water before they even step aboard.
"Having a customer like Sportsman Boats, with the forward-looking vision to strive for a connected boat to enhance the boater's experience, is key in our desire to get more people into boating," said Fetchko.
Based in South Carolina, Sportsman Boats manufactures a diverse line-up of offshore centre consoles and inshore bay boats up to 35ft in length targeting "families who like to fish".