Australian brand strengthens its presence in the US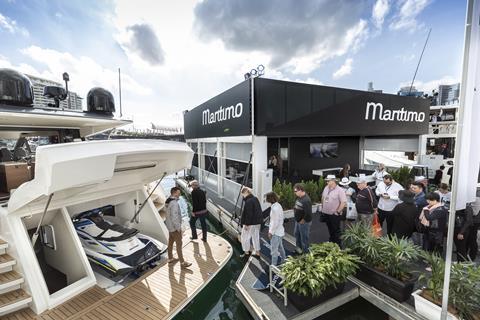 Australian yacht-builder Maritimo has reported double-digit sales at this year's Ft Lauderdale International Boat Show (FLIBS), resulting in a strong end to a year in which the brand set out to strengthen its presence in the US market.
In a statement the company says: "The successful Ft Lauderdale boat show caps off a sales boom for Maritimo in 2019, which places it as one of the strongest growing brands in its sector."
Maritimo Americas' president, Dave Northrop, said: "The response to the Australian manufactured vessels was extremely positive, and made it clear why more boaters are choosing Maritimo. The X50 sport yacht was the most popular model and our team of a dozen dealers and sales personnel were run off their feet with enquiries.
"Having the display stand that took out the best on-water display in Sydney mid-year here at Fort Lauderdale was an impressive statement."
Representatives from Maritimo Australia attended the show and worked with the American-based team members answering prospective buyers' queries.
Northrop commented: "The X50 and its larger sibling, the X60, were stand-out models at the show and drew a great deal of attention. The unique aft cabin beach club floorplan sets this motoryacht apart from the competition internationally and we have feedback from buyers and those who inspected these boats that our opposition is busy trying to design a motoryacht which will counter it."
Maritimo's lead designer and brand director, Tom Barry-Cotter, said: "The award-winning on-water display shipped from Australia with its VIP owners lounge was a highlight of the show, especially considering the temperatures show-goers had to deal with. Our bespoke VIP owners lounge was the most sought after place in the show, as crowds tried to escape the heat.
"Visitors to our stand received the VIP treatment from the moment they arrived," he pointed out, "and everything from our catering to sales staff interaction and the look and feel of our display extremely professional. The results speak for themselves and we will continue to raise the bar in terms of boat show presence going forward."
Maritimo's Australia-based CEO, Garth Corbitt, emphasised: "The results from Fort Lauderdale were excellent and capped off a strong year for the company in the Americas. Dave and his team have done a fantastic job in 2019 and we are up approximately 60% in sales volume year-on-year from 2018."
He continued: "The activity in the USA is a result of our strategic plan to grow that market and increase our brand awareness and I am pleased to say our goals are being achieved. Our forward order pipeline is now out to 2021 and we are increasing our workforce to make sure that we deliver on time as per our customers' expectations."