KM Yachtbuilders is working on 53ft Bestevaer motoryacht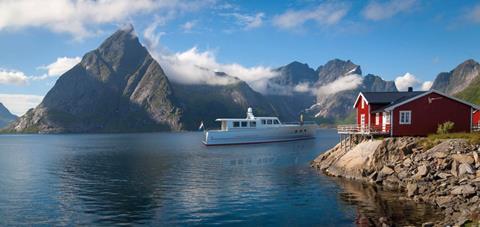 KM Yachtbuilders, a Dutch specialist in manufacturing aluminium, go-anywhere performance sailing yachts of up to 100ft in length, has started on a 16m (53ft) motoryacht project.
"We started building it on-spec two weeks ago, because it is an introductory yacht," Jildou Huisman, the yard's spokeswoman, told IBI. She says the yard is reacting to the trend of declining numbers of sailors, adding: "We'll probably be building two or three motoryachts a year."
KM Yachtbuilders is not alone in the Netherlands. Royal Huisman and Vitters Shipyard – two manufacturers of very high-end performance sailing yachts – have preceded it with motoryacht projects.
KM Yachtbuilders expects to present its inaugural Bestevaer-53 motoryacht at the HISWA-In-Water Boat Show in the Netherlands in September 2020. The company designed the yacht in collaboration with Dykstra Naval Architects. Nowhere is that more evident than in the foreship's portholes, the large aft deck with electric swimming platform, stowage for a dinghy and wide gangways.
KM Yachtbuilders only works in aluminium and recommends leaving it untreated so that an aluminium-oxide coating will form that prevents corrosion. Aluminium hulls weigh 30% less than steel ones, yielding more speed and fuel efficiency. "We can also provide foil wrapping for the deck, the superstructure or the hull," says Huisman.
"We have done some market research and found that there is room for a high-end, 53ft motoryacht," says Huisman. "We chose for a 53ft yacht because it is a relatively narrow boat. To be comfortable it must have two cabins and two wet cells."
The Bestevaer-53 motoryacht has a large salon with galley, a separate steering position and two cabins, each with private wet cells. It has a LOA of 15.97m, a beam of 4.97m and a draft of 1.20m. It comes with two cabins and three propulsion options. Its cruising speed varies from 8kt-14kt, its top speed from 14kt-26kt. It has a diesel tank holding 2,000 litres and a 750-litre water tank.