Project Cosmos will have a top speed of 30kt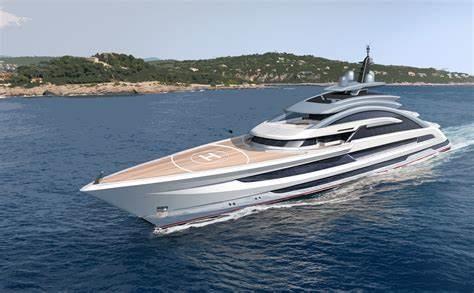 Hot on the heels of two "incredibly successful" years, Heesen Yachts has unveiled a patented "backbone" hull design to solidify the Dutch builder's name and reputation as a maker of very fast superyachts.
Watched by dozens of yachting media journalists and Heesen officials and suppliers, Heesen CEO Arthur Brouwer hosted a May 14 keel-laying ceremony of Project Cosmos, an 80m all-aluminium superyacht designed for a top speed of 30kt.
The vessel, said Brouwer, "will be the longest and fastest full-aluminium yacht in the world."
He said Heesen can safely make that claim as it has a long history of making fast yachts. He singled out the 44m (145ft) Octopussy, which Heesen built in 1988 and gave a 30kt top speed.
Brouwer said Heesen and Van Oossanen Naval Architects carried out extensive research and testing between 2016 and 2019, resulting in a radically new, patented hull design that promises to give Project Cosmos that 32kt top speed.
"The core design is that of a backbone," said Brouwer. Heesen and Van Oossanen officials said the 'backbone' is effectively a narrow, four-sided 'cage' running along the bilge, from stem to stern. Together with reinforced hull and deck sections, it acts as the 'backbone', providing stiffness without adding weight.
Project Cosmos (exterior from Winch Design, interiors by Sinot Exclusive Yacht Design) will be Heesen's largest to date.
Heesen Yachts' sales and marketing director, Mark Cavendish, said his company looks back on "two incredibly successful years" in which it built seven yachts from 47m-57m and nine yachts from 47m-80m. "We are not standing still. We have an order book of 12 yachts. Of these, seven are being built on spec," he added.
Cavendish said that Heesen building yachts with no firm orders "has overtaken the company's custom-building program." Spec-building can slash delivery times in half.
Many Heesen yachts leave the yard these days with a Fast Displacement Hull Form, a Van Oossanen Naval architecture patent that renders comfort and significant fuel savings. Heesen is contemplating greater use of the Hull Vane, an underwater foil below the transom, that generates more lift and also results in fuel savings.