Dutch builder of long-range trawler yachts says sales to the US have picked up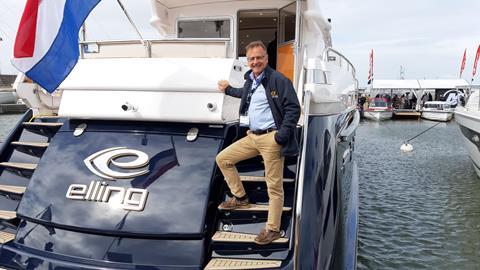 Elling Yachting is returning the United States where its sales have picked up in recent years.
The Dutch maker of self-righting, long-range composite trawler yachts has found a dealer in New England and will be at the Newport International Boat Show (September 12-15) at Newport, Rhode Island, says Anton van den Bos, director of Neptune Marine Shipbuilding, the manufacturer of Elling yachts.
"We'll also be showing at Cannes this year. I'm looking for a dealer in France," he told IBI at the HISWA-in-Water Boat Show in the Netherlands.
Elling was active in the US until the 2008 financial crisis there triggered a recession in developed economies worldwide. Since 2016, he has sold four Ellings there. Ellings come in three models – from 14m-20m (45ft-66ft) – and are self-righting. Van den Bos famously filmed himself inside an Elling 4 making a 360-degree roll.
Van den Bos sees a market for his yachts on both the US east and west coasts and counts on the Ellings' passage-maker looks to help sales there. His biggest market is Russia (six sales a year), followed by Germany (four).
Elling Yachting just recovered from a 2017 fire that caused massive damage. "We survived that and are on course to build 15 yachts a year," said Van den Bos.
Elling Yachting is something of a one-off in Holland, building high-end composite motoryachts in a country best known for steel and aluminium yacht building.