eProp's 1kW Spirit electric motor to be integrated into RS Sailing's fleet of RS21 keelboats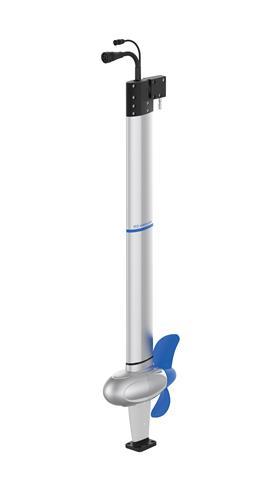 The UK division of Hong Kong-based electric outboard manufacturer ePropulsion has signed a deal to supply 60 fully integrated propulsion systems to RS Sailing.
The contract covers a bespoke mounting arrangement and integration of ePropulsion's 1kW 'Spirit' electric motor into a flush-fitting retractable electric drive system onboard the first 60 boats in RS Sailing's fleet of new RS21 keelboat day racers.
"The main challenge was to create a brand-new plug-n-play system for one of the fastest growing classes of keelboat in the world," says Ricky Cole, head of technical development at ePropulsion UK. "Short lead times are standard for new racing classes, but we also had to create an out-of-the-box solution that can be used during the boatbuilding process, or sent for retrofitting on boats anywhere in the world that are already being raced.
"The system has been engineered from marine-grade materials to give years of trouble-free service," he adds.
ePropulsion UK redesigned the top bracket motor mount which is CNC machined from solid 6061 aluminium alloy with a hard-anodised coating. A proximity switch has also been added which only allows the motor to run when it is locked down in the correct operating position.
Due to the length of the cables and the large current draw, the system has been designed with the highest quality cable and connectors which will maximise the efficiency and longevity of the solution.
To create a seamless plug-n-play propulsion system, ePropulsion has also designed a new side-mounted throttle arrangement with a removable handle which will help to reduce snags in the racing cockpit. All of the battery and motor information is displayed on a new high-contrast LCD screen.
The last part of the solution is a new nylon mounting bracket with stainless steel fittings that mates the skeg of the ePropulsion motor to the outer hull plate. When racing, the whole motor arrangement, which weighs just 7kg, is hauled-up into the stowed position with the outer hull plate flush with the rest of the hull, eliminating any unnecessary drag.
"You can usually expect some teething issues with new boat designs but the ePropulsion solution has been seamless," says Alex Southon, RS Sailing's CEO – Design and Technologies. "Their system works perfectly and is one of the easiest systems we fit on the boat, even when we are retrofitting on boats away from the factory. It's silent, robust and really complements the overall quality of the RS21 package."
The 1KW Spirit propulsion motor provides the equivalent thrust of a 3hp petrol outboard. Other advantages over combustion engines include no fuel or oil to spill, no regular servicing, no tricky starting procedure and noise or fumes when operating. There's also no need to swivel the motor around for reverse thrust.