UK yacht-builder extends Simpson's representation of Fairline in North and South East Asia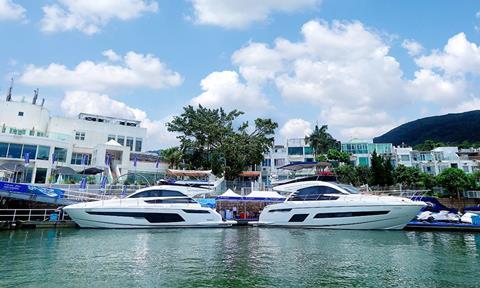 Hong Kong-based yacht sales and brokerage firm Simpson Marine has extended its Fairline Yachts dealership into North and South East Asia.
Over the past 18 months, Simpson Marine has been acting for Fairline in Hong Kong and the Philippines. Under the new deal, the company will now act for Fairline in Singapore, Thailand, Malaysia, Myanmar, Vietnam, Cambodia, Laos and Indonesia in South East Asia and Taiwan in Northern Asia. This increased relationship with Simpson will see it replace existing dealers which Fairline had in Thailand and Singapore.
Mike Simpson, founder and managing director of Simpson Marine, spoke with IBI's Asian correspondent Mike Derrett about the Fairline Yachts partnership. "With Simpson Marine celebrating its 35th anniversary this year, we are proud to be extending the representation across Asia of the long-established Fairline brand from England which has a history spanning more than 55 years.
"Fairline has a long-standing international reputation with its award-winning range of motoryachts. The three Fairline ranges have been designed by Alberto Mancini, the highly regarded Italian designer. Mancini has managed to combine Italian style with new ideas and concepts while upholding Fairline's high engineering and performance standards. We will be representing the brand through our network of 12 offices across the region."
David Walder, Fairline sales manager at Simpson Marine, added: "It is a privilege working with Fairline Yachts in Hong Kong and we have been delighted with the first yacht arrivals. Customers and yacht owners alike love the Fairline brand, and the global boating community is familiar with this premium UK yacht builder which is reputed for its high-quality finish, attention to detail and exceptional woodwork throughout.
"The Simpson Marine team is extremely enthusiastic about the performance levels of all the Fairlines, especially the new models we sea-trialled at Cannes Yachting Festival in September last year. Extending Simpson Marine's representation of Fairline Yachts within North and South East Asia makes perfect sense and is a natural progression for us as a regional company."
Richard Allen, group general manager at Simpson Marine, says: "We have witnessed a significant interest around this latest addition to our portfolio and we can't wait to expand further in Asia with dedicated launches being scheduled around the region and a strong display planned at the 2020 Singapore Yacht Show in March. We have secured some stock models to ensure availability, including the exciting all-new F//Line 33 and the Squadron 50 so the clients can get their yachts delivered quickly."
Miles Moorhouse, Fairline's head of marketing, told IBI: "The new Thai dealer starts today and will be acting for us at the Thailand Yacht Show which opens later this week. The new Singapore dealer will start in time for the Singapore Yacht Show being held in March. A number of yachts have already been sold by Simpson in Hong Kong which have all been 48- or 53-footers, but we are in negotiations for yachts over 60ft."
Moorhouse explained to IBI: "The new territories will complete our coverage in Asia. We also have dealers in Korea and southern China which we are working well with and plan no changes."
For Simpson Marine, taking on wider representation across Asia just adds to its already strong brand marketing and sales activities working with other builders including Sanlorenzo, Groupe Beneteau brands including Monte Carlo Yachts (excluding HK), Beneteau Sailboats, Lagoon Catamarans, and Aquila Power Catamarans in Asia.
For Fairline, 2019 was a pivotal year in its rebuilding since new ownership took over in 2017. It has won several awards for models such as the F//Line 33, the Targa line (45ft-65ft) and the flybridge Squadron line (50ft-68ft). At boot Düsseldorf 2020, Fairline will globally launch the all-new Targa 45 GT and make an exclusive announcement. 2020 is also down to be an important year, with the company hoping to make operating profits for the first time.