Work has already started on De Vries Scheepsbouw's new facility in Makkum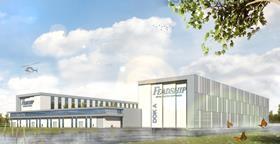 De Vries Scheepsbouw, a founding member of the Feadship alliance of superyacht builders, has started work on a second build hall – 166m long – in the northern Dutch town of Makkum.
Feadship already has a 182m hall in Makkum – formerly owned by the Amels superyacht maker – that includes a 120m dry dock. The first phase of the second hall will be completed by November 2019.
Times are good at Feadship. In early 2019, Royal van Lent Shipyard – the other Feadship pillar – will open a build hall in the Port of Amsterdam. At Feadship's fourth yard, it can build to build to 166m.
Driving Feadship's aggressive expansion is a fat order book, demand for larger yachts and a new drive to attract refit and maintenance projects to the Netherlands. In the past two decades, Feadship and other Dutch builders were too busy making ever larger, high-end yachts, leaving refits to yards in the Mediterranean, especially.
The Makkum expansion "involves a considerable investment", says De Vries Scheepsbouw director Henk de Vries. "As a family business we find it crucial to secure the future for generations to come."
At the new hall, two large Feadship yachts can be worked on simultaneously. The new hall will include a 140m dry dock, 21.5m. wide. The expansion includes new offices and workshops, located between the two halls.
Feadship director and Royal van Lent CEO Jan-Bart Verkuyl says the average length of the superyachts ordered continues to grow. Most Feadship projects currently underway exceed 80m and there is a clear trend they will grow ever larger.