EBITDA increases 25.7% in first half of 2019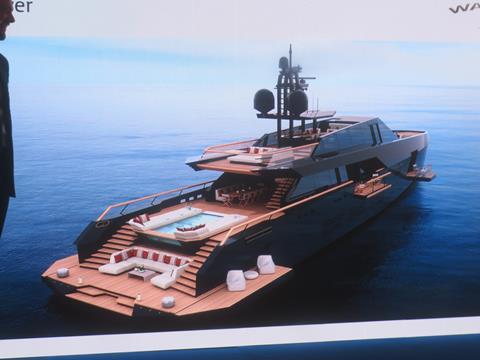 Italy's Ferretti Group presented more information about its financial performance and new products from its Superyacht Division to be launched over the next three years at the Monaco Yacht Show. One of three divisions within Ferretti, the Superyacht Division currently encompasses four brands – CRN, Custom Line, Pershing and Riva – with a fifth, Wally, joining shortly.
In terms of finances, much of the ground covered at Cannes and in the IPO announcement last week was restated but an EBITDA figure of €30m for the first half of 2019 was confirmed, which is a 25.7% increase on the corresponding period of last year. The value of the orderbook for the first half was said to be worth €653m, which is a 19% year-on-year rise.
CEO Alberto Galassi described Ferretti as "the world's most exclusive yachting group". He spoke of the group's developing financial strength including the figures above, the continuing support of the two shareholders and the recent €250m equity boost from them, ongoing investment in facilities and product development.
In regards to the IPO, which is to be implemented in October, Galassi said: "With our financial strength we do not have to do it, but we want to so that we can grow faster."
In terms of product development, new models were announced for Custom Line, CRN, Riva and Wally.
At Custom Line, two new models are being added – a CL140 model for the brand's planing series, and a Navetta 48 for its classic line. Both models will be the largest-to-date in their respective series. COO Stefano de Vivo said: "This is a start and more will come. With these models by next year Custom Line will be the world's largest composite superyacht builder. So, number one, which is where we want to be.
"There are many regulatory changes being made at IMO coming into force on January 1, 2021 which will impact upon the yacht business," he warned. "Many models will die because they do not have the space to accommodate the changes. The CL140 has been designed with these changes in mind and it will be delivered in 2021."
The new Custom Line 140 will be the third model in the planing line designed by Francesco Paszkowski Design, the second in collaboration with architect Filippo Salvetti for the exterior design and Citterio-Viel studio for the interiors. The Navetta 48 will weigh 499 tonnes and be introduced in 2021. The CL140 will be introduced in 2020.
As for CRN, five new projects were mentioned:
CRN 135: a 79m was delivered in 2019 and was present at the show. Exterior design was by Zuccon International project and interior by Laura Sessa
CRN 137: Delivery 2020, a 62m steel and aluminium with exterior and interior by Nuvolari & Lenard
CRN 138: Delivery 2021, a 62m steel and aluminium in collaboration with Omega Architects for the exterior and Pulina-DNA for the interior
CRN 139: a 70m steel and aluminium for delivery in 2022. Vallicelli Design for the exterior and Nuvolari Lenard for the interior
CRN 141: a 59.9m, full aluminium, fast displacement with delivery in 2022 and design by Nuvolari Lenard
Ferretti also explained that the first Pershing 140 was delivered this year and that hull No 2 is in build.
A new Riva 130 was also announced which will premiere in 2021. This is part of filling the Riva superyacht range series between 40m-90m. The series also includes the Riva 90 Argo, of which nine have been sold; the Riva 100 Corsaro, of which 18 have been sold; and the Riva 110 Dolcevita, of which 15 have been sold.
As announced in Cannes, Wally will develop a Wally 101 performance sloop, marking Ferretti Group's entry into the sailing sector. In Monaco a new Wallypower 165 superyacht is in design for a 2021 launch. It is jointly designed by Luca Bassani of Wally collaborating wih Espen Øino.