Ocean 360 will represent the Italian builder in the UAE, Oman and Egypt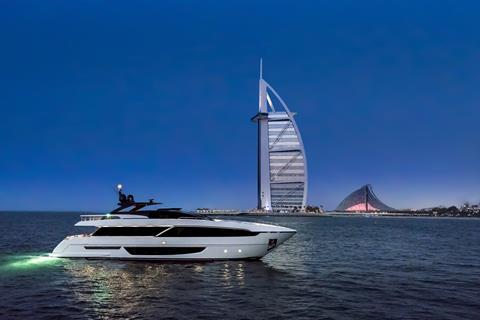 Italy's Ferretti Group announced a new dealership agreement with Ocean 360 at the start of this year's Dubai International Boat Show (DIBS). The five-day event opened today and runs until March 2.
Ocean 360 is the region's newest 360-degree leisure yachting enterprise, covering the territories of the UAE, Oman and Egypt. The company will serve as Ferretti's exclusive dealer for the Ferretti, Pershing, Itama and Riva brands, and an authorised dealer for Custom Line.
"Ocean 360 is the ideal partner for us, as it lives up to our vision and our standards that position us firmly at the top of luxury yachting," says Ferretti Group CEO Alberto Galassi. "Moreover, it is well-rooted in the territory, in a market like the Middle East, which is of fundamental importance for our international expansion.
"We are sure that thanks to Ocean 360 solidity and authority, we will be represented at our best in the UAE, Oman and Egypt countries where an ever-growing array of ship owners and enthusiasts shows interest and enthusiasm for our boats and our 'Made in Italy' yachting," he adds.
Ferretti is displaying four yachts at DIBS, including the Pershing 82 which is making its Middle East premiere. The other three models are the Ferretti Yachts 550, Riva 100 Corsaro and Pershing 70.
"Ocean 360 is excited to exclusively carry Ferretti Group's famous Italian brands Ferretti Yachts, Pershing, Itama and the iconic Riva – a name in the yachting industry that has a heritage of over 175 years and known for its 'La Dolce Vita' lifestyle – reserved for the most discerning clientele, celebrities and royalty," says Ocean 360 CEO Gregor Stinner.
"Ocean 360 will enrich the premium experience of owning one of these yachts by providing premium services for yacht logistics, yacht aftersales and restoration, yacht valet and yacht management."
The Ferretti Group welcomes guests on board its fleet of yachts at DIBS, which can be found on the water on Stand MD-20.