Wally acquisition to boost group's financial strength and performance
Italy's Ferretti Group highlighted the group's ongoing strong financial performance and the opportunities presented by the acquisition of the Wally brand at the start of boot Düsseldorf this weekend.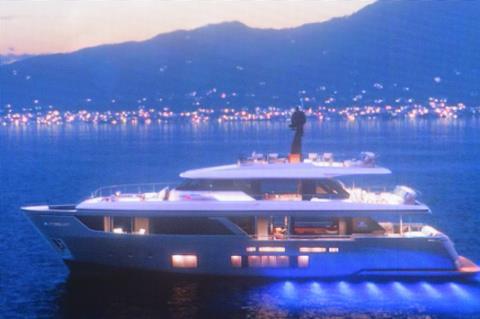 In terms of Ferretti's projected financial performance for the 2018 fiscal year, CEO Alberto Galassi was unable to give confirmed figures but presented graphics suggesting what is to come. In terms of turnover the graphics suggest a result in the order of €650m compared with €606m in 2017 and €548m in 2016.
With regards to the serial order intake, the graphic suggested an estimate of well over €500m compared with €392m last year and €401m in 2016. Galassi said that €30m is spent on R&D each year.
Galassi indicated that the recent Wally deal has yet to be fully completed and that Ferretti is currently working on a licence agreement to buy the brand. He also said: "We have spent 15 months discussing the deal."
Ferretti announced the purchase prior to the Düsseldorf show and reported that €84m will be invested over the next three years. Galassi confirmed that this funding will come out of the Ferretti Group cash flow. In the first two years, €70m will be invested. Galassi said: "We are looking at two potential sites for the shipyard, one in the Adriatic and one in the Tyrrhenian sea."
Galassi spoke of the Wally brand filling a gap in the Ferretti portfolio of products. He announced that Wally founder Luca Bassani approached Ferretti in respect of the purchase and that Ferretti Group COO, Stefano di Vivo, has been appointed managing director of Wally.
The first project between the two companies will be a restyled 14.5m 48 Wallytender that will include all the distinctive Wally hallmarks. The Wally tender will have a full a cabin for two people with ensuite facilities, making the craft an ideal day or weekend cruiser. It will be propelled by a pair of Volvo IPS 650 engines, giving a speed of 38kt.
Bassani, commenting on the Wallytender, said: "The Wally DNA design, proven performance, fun and flexibility continues in the partnership with Ferretti." The 48 Wallytender will be debuted at Cannes in September.
With regards to Ferretti Group brands, there was mention in the press conference of the all-carbon fibre Pershing 8x which is being exhibited at Düsseldorf along with seven other models. The 8x is the result of the collaboration between the architect Fulvio De Simoni, Ferretti Group Strategic Product Committee and the Engineering Department of the Group.