LIGNIA signs distribution agreement with Teakdecking Systems for North America and the Caribbean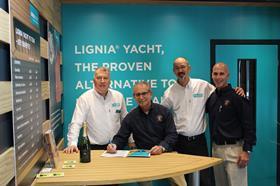 LIGNIA Wood Company, a British timber modification business, has signed its first major distribution agreement with US-based Teakdecking Systems (TDS) for its LIGNIA Yacht product in North America and the Caribbean. The deal was signed at the METSTRADE Show in November.
LIGNIA Yacht claims to be the only proven wood alternative to Burmese teak for yacht decking. The product is a natural, modified timber which matches, and in some cases exceeds, Burmese teak in performance and visual beauty, LIGNIA claims.
"TDS is one of the biggest and best-known companies in the marine world, so this is naturally hugely exciting for us," says LIGNIA's commercial director, Steve Rogers.
"It has been very clear to us from all of our discussions at METSTRADE that the supply of Burmese teak for yacht decking is not sustainable and our work with TDS will help to deliver a real wood alternative to yacht brands that is hard-wearing, beautiful, legal and sustainable."
Based in Sarasota, Florida, TDS is a leading manufacturer of yacht and cruise liner decking. The company supplies the industry with over 125,000sq ft (11,600sq m) of decks annually – the equivalent of four to five 164ft (50m) custom yachts per month.
The two companies have been working together for a number of years, with TDS helping to test LIGNIA Yacht in some of the harshest environments in the world.
LIGNIA's patent-pending manufacturing process involves taking sustainably-sourced, FSC softwood and modifying it into high-performance timber with all the best attributes of a hardwood.
It is also enhanced to include greater durability against rot, with improved stability, density and hardness, while retaining a rich, golden-brown colour similar to Burmese teak.