Around 25 representatives attended a recent session in Verwood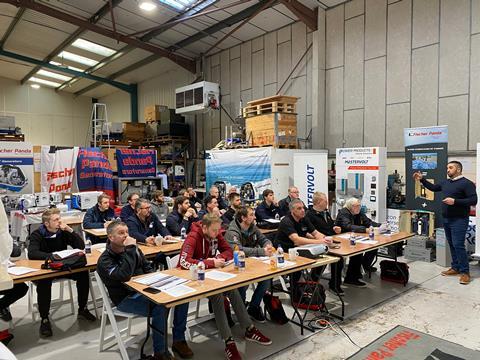 Fischer Panda UK has established an official network of approved service partners to offer improved local support for its customers in the UK and Ireland.
The partners will receive additional centralised support from Fischer Panda UK, including regular technical and operational training, to enable them to provide an improved service to customers in the marine and vehicle markets.
Some 25 representatives recently attended the first annual three-day training event in Verwood to ensure each company is up to date with the latest product and industry developments.
Led by Fischer Panda engineering and technical manager Chris Baker, training encompassed topics including generator servicing, installation, commissioning and warranty procedures and incorporated a day dedicated to associated products including watermakers, electric propulsion, air-conditioning and Mastervolt equipment.
"Fischer Panda UK is aiming to offer more local support to our ever-growing customer base across the UK and Ireland," says sales and marketing director Chris Fower. "We have carefully selected trusted partners in strategic locations across the country which have the correct technical capabilities and resources to best support our customers with a premium service. The result will be that customers will benefit from a quicker and more local response, a nearby support point and confidence that they are dealing with an approved partner of Fischer Panda UK.
"Each Fischer Panda partner will be formally certified as an 'approved service partner' and will have a presence on our new website to be launched later this year. Additionally, they will receive special discounts, prioritised support from Fischer Panda UK, annual training and our full backing to work on, maintain, warranty, service and commission Fischer Panda generators and some associated products."
The first annual training event this February was received positively by partners, with a CZone digital switching session planned for next month and more focused instruction on electric propulsion also in the pipeline.
Targeting the small boat leisure, light commercial and superyacht sectors, Fischer Panda UK's product portfolio includes the latest integrated mobile power solutions and smart digital switching systems by Mastervolt and CZone, Dometic air-conditioning, electric propulsion solutions and Sea Recovery, HRO and Village Marine watermakers to complement its leading, quiet marine diesel generator offering.